Covering a third of Australia, mighty WA is the country's largest state. That's 2.6 million square kilometres of arid desert, untamed bushland and lush topics. This sometimes forgotten state offers more than enough to fill not one, but several holidays.
As one of the most diverse regions on the planet, there's no shortage of astounding things to see and do. So if you're looking for adventure, relaxation, or even a little of romance, Western Australia can deliver the goods.
To help you plan your next trip to the state, we've picked out ten reasons (in no particular order) why a visit to Western Australia is a must, plus some of the sights that should undoubtedly appear on your itinerary:
1) Coral reefs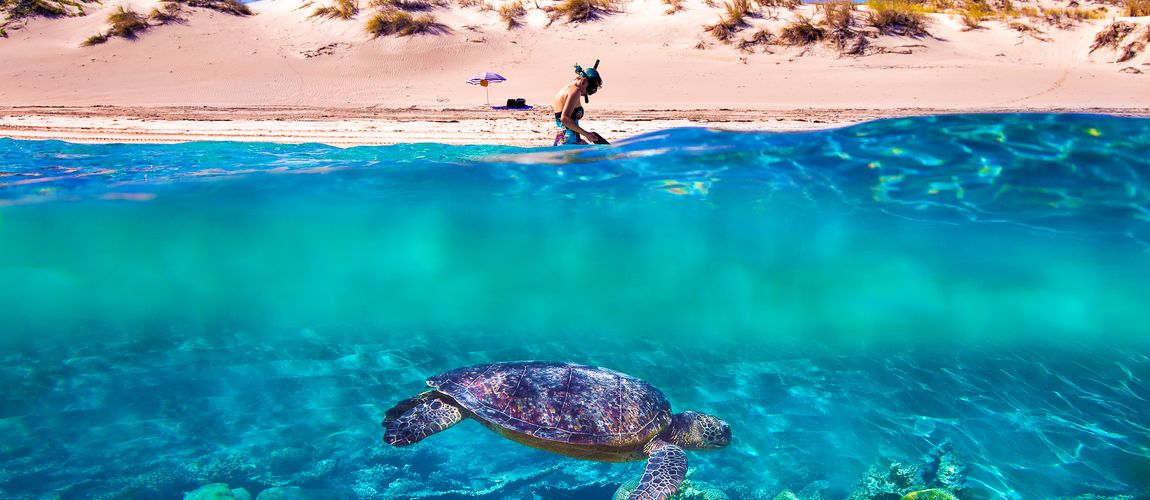 You can't go to Australia without taking advantage of the snorkelling and diving opportunities on the country's coral reefs. While everyone may be flocking to the Great Barrier Reef in the east, WA's Coral Coast has some show-stopping reefs of its own - the clue is in the name. From Coral Bay you can swim out to Ningaloo Reef - the world's largest fringing reef - where there is fascinating marine life all year round. However, from April to June whale sharks frequent the reef; humpback whales can be spotted from June to November, and January to March is hatching season for the large populations of green, hawksbill and flatback turtles that call WA's reefs home.
2) Horizontal waterfalls
Waterfalls around the world are always a spectacular sight, but none are quite as unique as the Kimberley's Horizontal Falls. The awesome power of the Kimberley tides build up quick and have to squeeze through a small canyon gap within the McLarty Range. The result: an impressive waterfall defying the rules of gravity! One of the icons of the Kimberley coast, these waterfalls can be reached on a day excursion from Broome or Derby.
3) Jewel Cave
The sleepy town of Augusta is home to the largest show cave in Western Australia - Jewel Cave. Venture into the three vast underground chambers to see the network of caves and intricate vine-like stalactites and helictites. Jewel Cave also contains one of the longest tubular stalactites in the world; we recommend a guided tour to understand the history behind this meticulous handiwork of nature.
4) Sunny Perth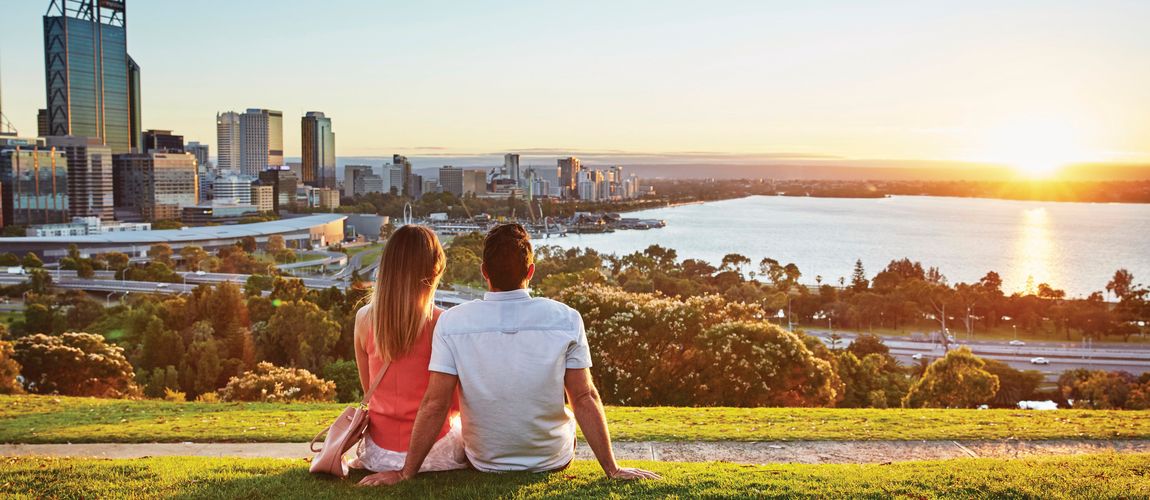 A modern port city surrounded by the Indian Ocean, Perth is Western Australia's relaxed state capital. With its Mediterranean-style climate, Perth is Australia's sunniest city – great news if you're a beach lover. A stroll through Perth's Kings Park is also a must, as is dining at one of the city's many alfresco eateries followed by a sunset cocktail on Cottesloe Beach.
5) Wine and dining
There are plenty of activities and adventures to be had in Western Australia, but sometimes relaxation and romance are in order. At the Swan Valley wine region the two of you can eat, drink and shop while taking in the history of the area. Afterwards, you can continue to indulge in the top-class restaurants and local produce of Margaret River from divine cheeses to melt-in-your-mouth chocolate. All over a bottle of the region's finest sauvignon blanc, of course.
6) Panoramic beaches
No trip Down Under would be complete without time relaxing on magnificent beaches, and the sandy expanses of Esperance seem tailor-made for exactly that. The Bay of Isles in Esperance have so many white-sand beaches and stunning views of the Recherche Archipelago that it's not hard to find a spot just to yourself to while away the hours.
7) Shark Bay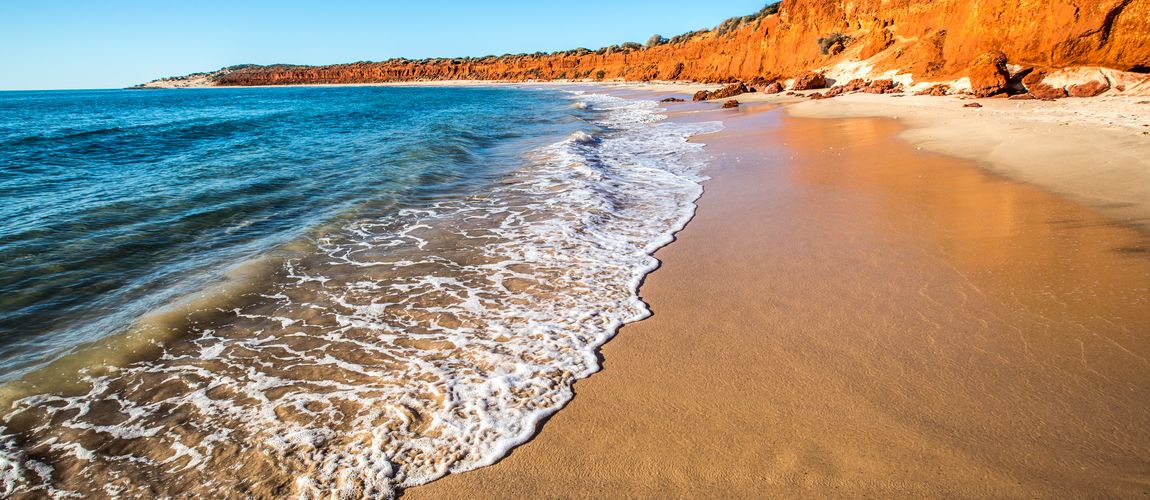 World Heritage-listed Shark Bay stretches for 1,500 kilometres and is a haven to many rare marine species including a thriving dugong (sea cow) population. Across the water is one of Shark Bay's most popular attractions, Monkey Mia, where you can enjoy watching the wild dolphins in the shallows. The bay also has many small islands as well as a six-kilometre stretch of beach with the Zuytdorp Cliffs providing a dramatic backdrop to the turquoise waters. It's the perfect place for snorkelling and many other watersports.
8) Rugged Albany
For a taste of old Australia, visit Albany. Just five hours drive from Perth; Albany is certainly worth the trip. Cycle the city's rugged coastline, and then wander the old convict jails, historical buildings and quaint cottages. Albany offers many nature reserves but none as unique as Dog Rock – a large piece of granite sticking out of the ground in the shape of a golden retriever's head. We'd recommend visiting on a weekend to catch the iconic Albany Farmers' Markets for its huge array of tasty locally-grown goods.
9) Outback adventures
Western Australia has the largest area of outback in the country, which lends itself perfectly to those looking for the quintessential Aussie adventure. Kalgoorlie, east of Perth, mixes colonial architecture with the mines from the 19th century gold rush or marvel at Kalgoorlie's Super Pit Mine which still produces about 800,000 ounces of gold a year. Want to experience Australia's remote wild west? Take a road trip down Gibb River Road, a 660 kilometre dirt track that shows you the Australian wilderness at its best.
10) Stunning national parks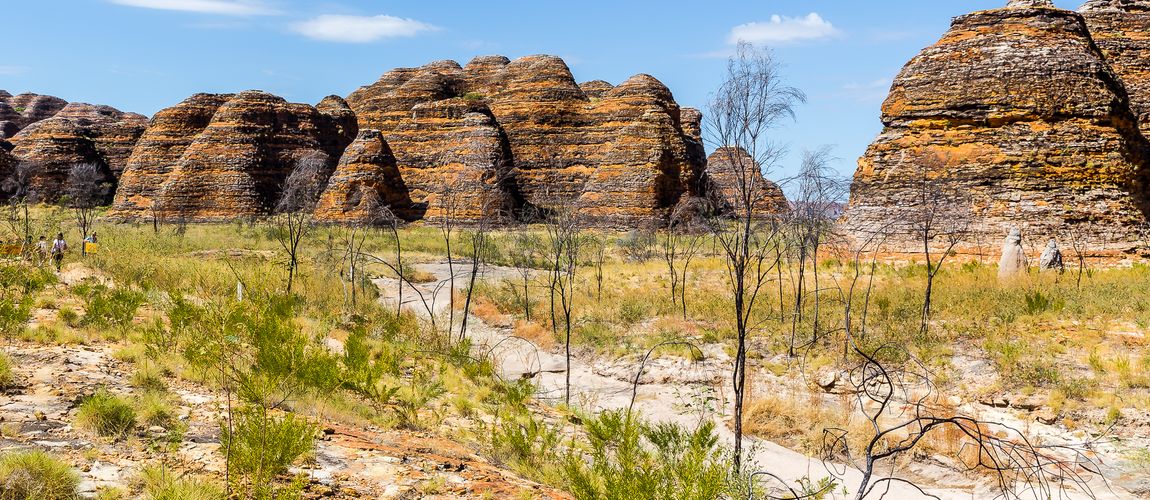 For intriguing peaks and points, visit the Bungle Bungle Range in Purnululu National Park or the Mars-like desert landscape of the Pinnacles in Nambung National Park where you can walk around ancient rock formations that rise up to six metres above the shifting sands. Located on the southern end of the Kimberley region, Wolfe Creek Crater National Park is home to the second largest crater in the world. Wolfe Creek Crater was formed 300,000 years ago when a giant meteorite crashed into the Earth.
Where would you love to go in Western Australia?