You might think the Sunshine Coast is pure beach holiday material. And you're 100 per cent right. But if you're looking for something more than just sun, sea and sand, you're going to be pleasantly surprised.
The Sunshine Coast offers everything from rainforests to everglades and freshwater rivers. Unique volcanic mountains, sand islands and much more.
In fact, the Sunshine Coast has more national parks than any other region in Queensland. As much as we'd like to mention every single one, we've shortlisted five of our favourites all in easy driving distance from Brisbane. Question is, which will you choose?
Starting with the closest, here are the wonderful national parks you'll find as you travel up the coast…
Glass House Mountains National Park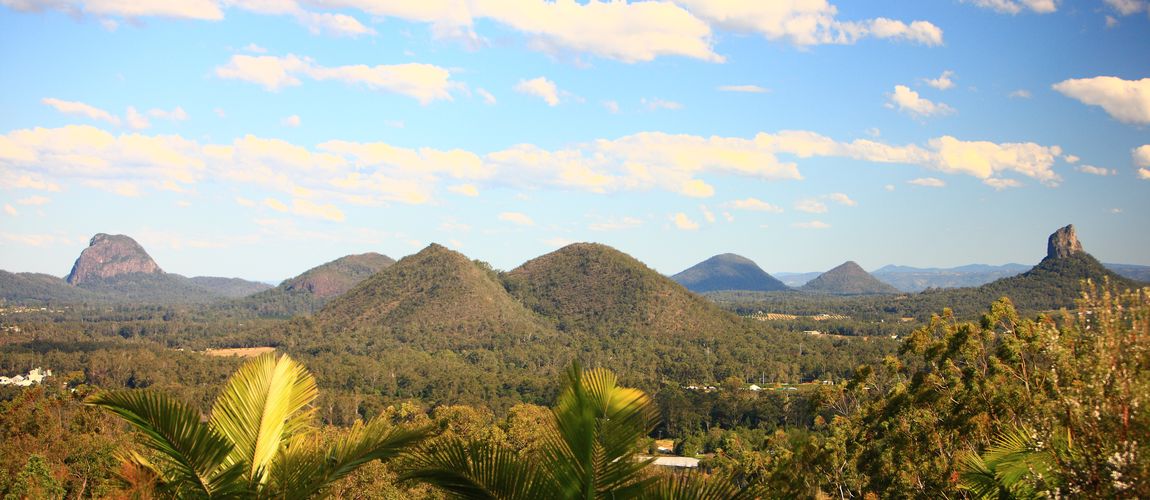 Quick facts
• Best for: hiking and rock climbing.
• Close to: Australia Zoo, and about an hours' drive north of Brisbane.
• Key sight: the peaks themselves. There's 11 to be exact including Mount Beerburrum, Mount Beerwah, Mount Tunbubudla (or the Twins), Mount Tibrogargan, amongst others.
• Landscape: coastal plain dotted with volcanic peaks.
Whether you're out to sea or hiking up one of these impressive peaks, you're sure to be blown away by these unique formations.
Tibrogargan and Ngungun are the only two mountains open to the public for bushwalking and climbing. There are several walking tracks on or around the mountains.
However, for those that like a challenge, why not do the 2.8-kilometre Mount Ngungun summit walk? It's about a two-hour return trip. And though it does involve climbing up some rocky steps, you'll be rewarded with sweeping 360-degree views of the Sunshine Coast hinterland.
Mooloolah River National Park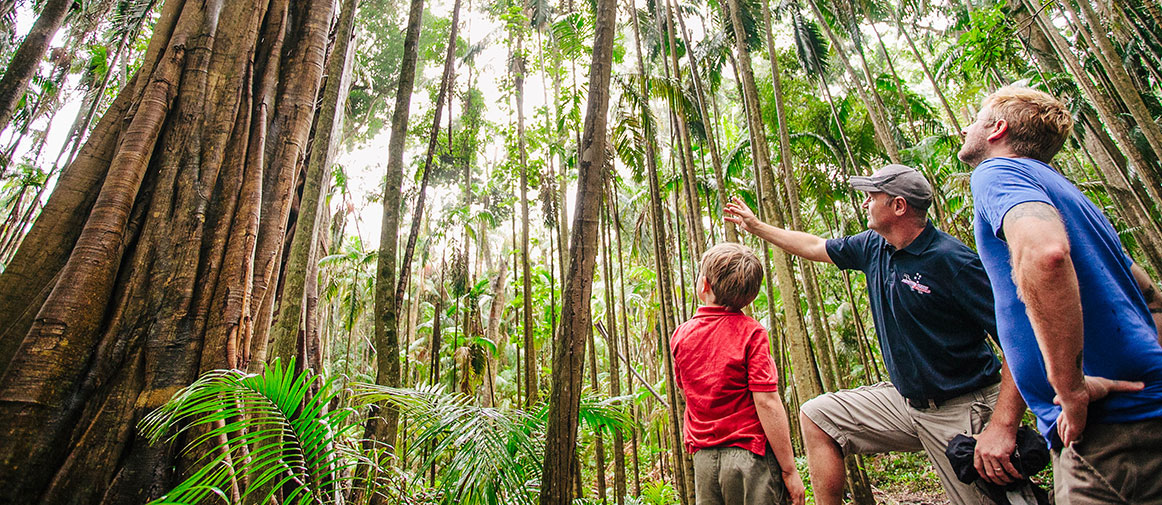 Quick facts
• Best for: rainforest trail walking and birdwatching.
• Close to: just over an hours' drive north of Brisbane and 10 minutes from Mooloolaba.
• Key sight: the different types of forest; coastal rainforest, melaleuca forests, wallum banksia woodlands, scribbly gum open forests, etc.
• Landscape: coastal rainforest and riverland.
Moo-loo-lah. What a great name. Nearly as unique as the name of its nearby beach town; Moo-loo-la-ba. Needless to say, both derive from the Aboriginal word 'mulu' meaning 'snapper fish'.
Mooloolah River National Park, also known as Jowarra, is a highly protected area of coastal rainforest. You'll find two short, easy walks starting from the rest area: the Mooloolah River Circuit and the Melaleuca Walk. However, tracks that pass through wet heathland are prone to flooding during the summer months (December to May). The drier winter months are best for walking.
One of the highlights of this park is its abundant wildlife. Watch out for the wompoo fruit dove, the eastern yellow robin and the endangered Richmond birdwing butterfly. The river is also home to the elusive platypus. Try catching a glimpse of this rare and shy animal at dawn or dusk.
Kondalilla National Park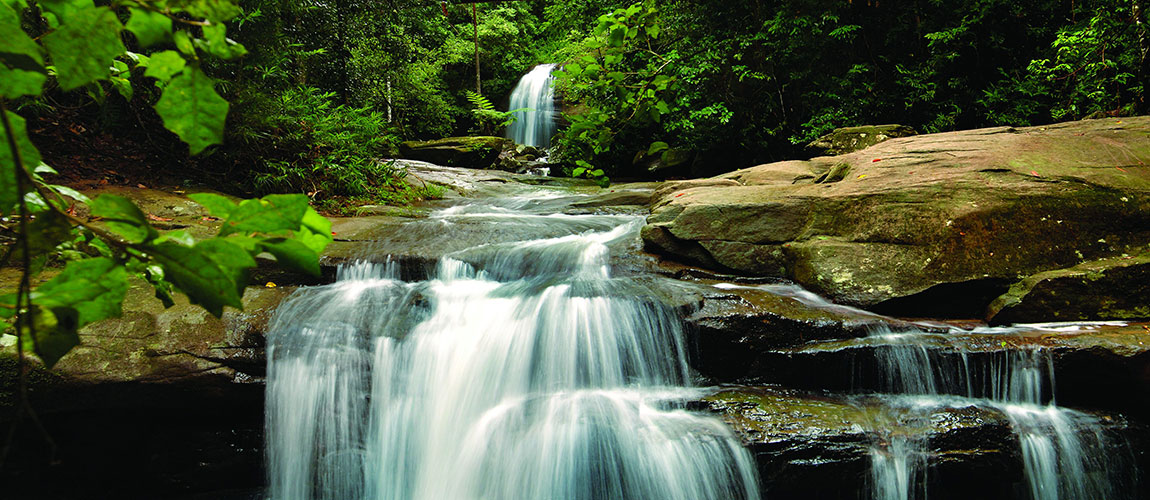 Quick facts
• Best for: waterfalls and rock pool swimming.
• Close to: about an hour and a half drive north of Brisbane into the Sunshine Coast Hinterland, near Montville.
• Key sight: the spectacular Kondalilla Falls.
• Landscape: a lush rainforest valley with cool mountain scenery.

Named after the glorious Kondalilla Falls, where Skene Creek drops 90 metres into the rainforest valley below. 'Kondalilla' is an Aboriginal word meaning 'rushing waters' and to see the waterfall in full flow, we recommend a visit late in the wet season (January to May).
Enjoy lunch at Kondalilla Falls picnic area, or make like the locals and take a dip in the park's many rock pools. Just remember to pack your swimming gear.
There are several walking tracks in the park too. Choose from the easy 2.4 kilometre Picnic Creek Circuit, the moderate 3.2 kilometre Rock Pools Walk or the more challenging 4.6 kilometre Kondalilla Falls Circuit. For the latter, while it's an easy job getting to the base, it's a fair hike back up the ridge. There's over 100 steps to tackle, so give yourself enough time to finish the trail before dark.
Mount Coolum National Park
Quick facts
• Best for: a challenging mountain hike.
• Close to: an hour and a half drive north of Brisbane and 10 minutes from the seaside town of Coolum.
• Key sight: the summit which offers 360-degree views of the coast and hinterland.
• Landscape: an ancient dome-shaped mountain with surrounding coastal lowlands of eucalypt forest and rare plant species.
As the name suggests, the centre piece of this national park is the impressive Mount Coolum. Rising 208 metres above sea level, this giant makes for a fantastic lookout point across the Sunshine Coast.
For those determined to get to the top, be warned, it is quite a tough trek for non-walkers. Though only 1.6 kilometres in total, the walk will take you two hours (shorter if you're relatively fit) and expect steep, rocky steps in places. But, it's all worth it once you reach the top – we promise. The views are phenomenal and you can see for miles in every direction. There's Point Cartwright and the Glass House Mountains to the south, Noosa Heads to the north and of course the coast and Coral Sea to the east.
Not keen on making the climb? There's still plenty to see at the foot of the mountain. It's one of the few places that rare montane heath grows as well as other resident wildflowers and birdlife. In particular, keep an eye out for magnificent peregrine falcons which nest on the cliff faces.
Noosa National Park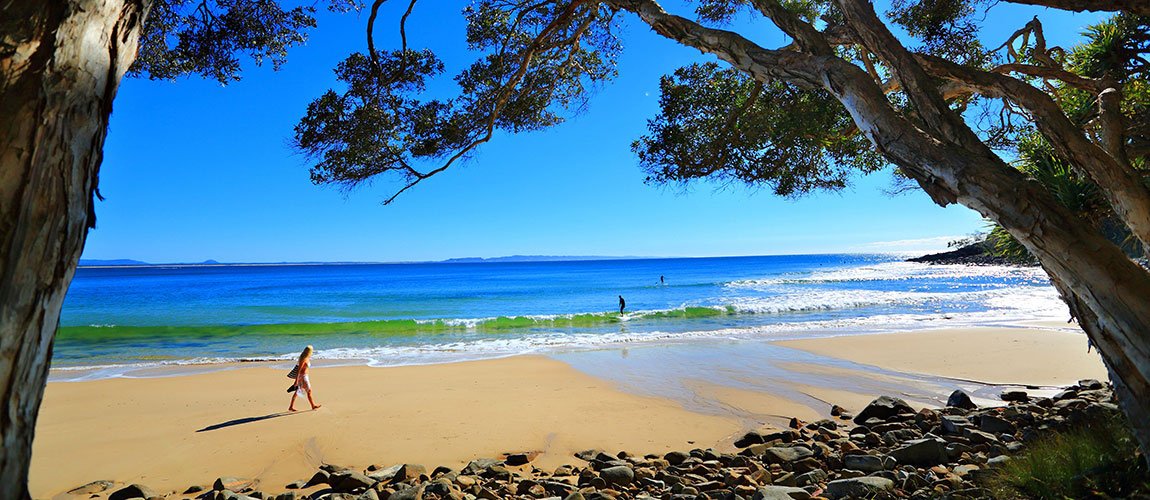 Quick facts
• Best for: finding your own secluded beach or picnic spot.
• Close to: Noosa, which is two hours' drive north of Brisbane.
• Key sight: the NP's hidden beaches.
• Landscape: boardwalks, rainforest trails and cliff top tracks.
Tucked into a headland and sprawling along the coast, Noosa National Park offers a delightful mix of beach and rainforest.
Conveniently close to the high-end beach town of Noosa, you can simply stroll right to the national park's main entrance from the town centre. From there you can choose between several walking tracks; the Coastal Track, Noosa Hill Track, Palm Grove Circuit or the longer Tanglewood Track.
Each are equally beautiful but range in length, from one to eight kilometres. Our top pick however, has got to be the cliff-top Coastal Track. The views from Hell's Gate at the track's furthest point are well worth the walk.
It's easy to see why this is one of Queensland's most popular parks.
So, which of these stunning national parks will make it on to your Sunshine Coast itinerary?
Speak to us today and we'll help plan and organise your trip so you can start ticking off these beautiful, natural sights of Southern Queensland.