So you're looking to book somewhere extra special with your loved one.
Whether you're thinking of popping the question, celebrating a special anniversary or simply want to spend some quality time together, look no further. We've lined up some of Australia's most unique and intimate getaways for you to really spoil your partner. Lucky them!
From luxury adults-only resorts to secluded lodges in the rainforest, one couple's idea of romance can be very different to another.
Is a relaxing spa break what you're looking for? Or is hiking through the wilderness together more you're thing? Whatever the case, you can't beat Australia for its diversity of experiences and dreamy places to visit.
For all you loved-up couples out there, these incredible hotels promise an unforgettable stay. The only question is, which will you choose?
qualia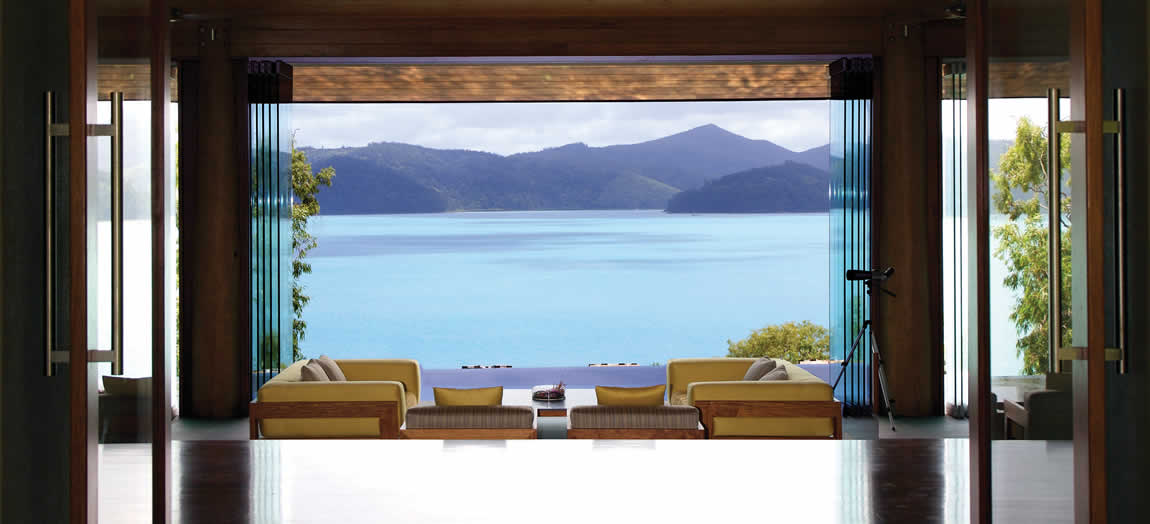 As close to paradise as it gets. Pronounced 'kwah-lee-ah', this five-star adults-only resort is seclusion and serenity epitomised.
qualia's luxurious and spacious pavilions are immaculately decorated with plush, timber furnishings. You'll both feel like celebrities as you relax on your private sundeck soaking up the breath-taking views of the Coral Sea.
For the ultimate romantic experience during your stay, charter a seaplane to fly you over Heart Reef – part of the magnificent Great Barrier Reef. If there was a perfect place for a proposal, this would be it. Nothing says 'I love you' like coral shaped like a heart, right?
Where is it?
Hidden away on the northern tip of Hamilton Island in the Whitsundays. There are regular domestic flights to the island from all major airports.
Who's it best for?
Honeymooners and those looking for a no-expense-spared getaway.
Silky Oaks Lodge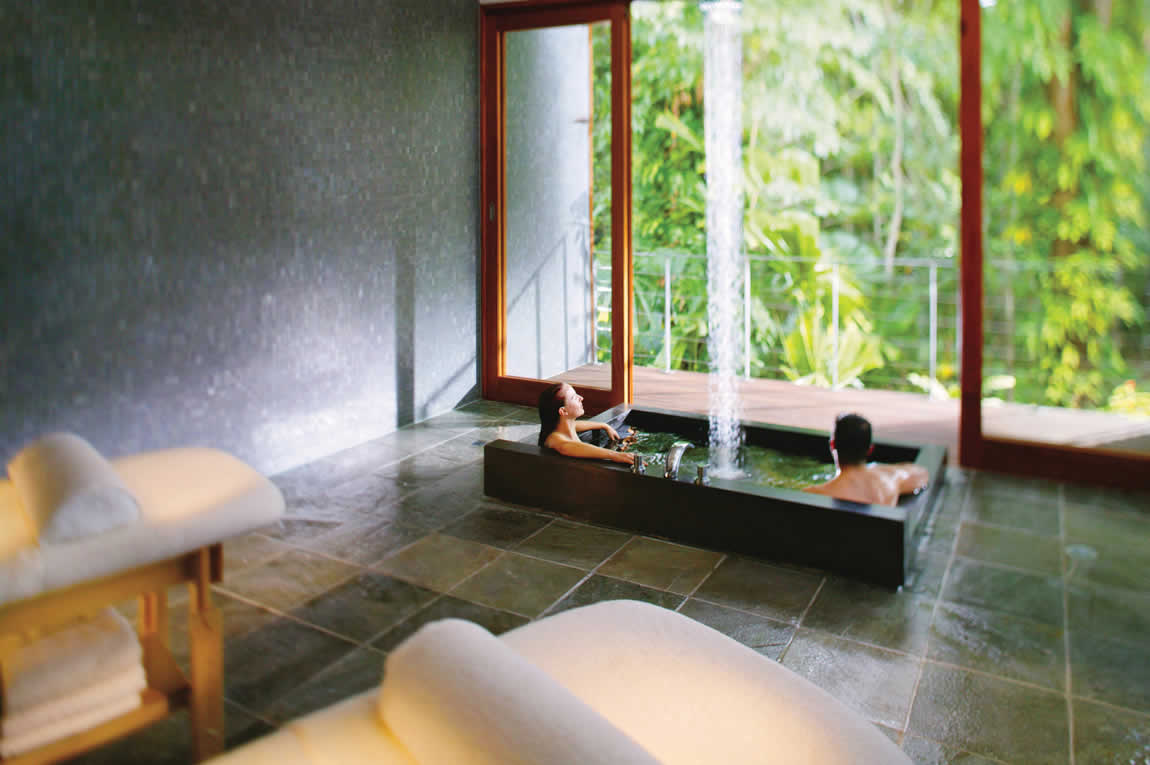 Set on the banks of Mossman River and hugged by the dense greenery of the Daintree Rainforest, Silky Oaks feels like a world away from civilisation.
Stay in one of the lodge's treehouses or luxury cabins, both offering spacious balconies complete with couple's hammocks. Perfect for snuggling up together as you enjoy the sights and sounds of the rainforest.
Or for something extra indulgent, book a treatment (or two) at the award-winning Healing Waters Spa. The ultimate place for couples to relax and absorb the surrounding nature.
Where is it?
About an hour and a half drive north of Cairns, and half an hour inland from Port Douglas.
Who's it best for?
Couples looking for peace and quiet in a tropical setting.
Longitude 131°
If curling up together in a 'swag' (that's a sleeping bag to us) under a star-studded sky is your idea of romance, then Longitude 131° is for you.
In the heart of Australia's Red Centre, each of Longitude's 15 deluxe tents boast spectacular, uninterrupted views of Uluru. Thanks to the wall-length windows, you can even watch the sunrise over the iconic monolith from your bed.
There's very few places in the world that offer such an extraordinary experience in a remote, desert environment. Expensive? Yes. Worth it? Totally.
Where is it?
Located in the middle of Uluru-Kata Tjuta National Park, it's a 15-minute drive from Ayers Rock Airport or a six-hour road trip from Alice Springs.
Who's it best for?
Those looking to experience the real Australian outback – in first-class luxury.
Southern Ocean Lodge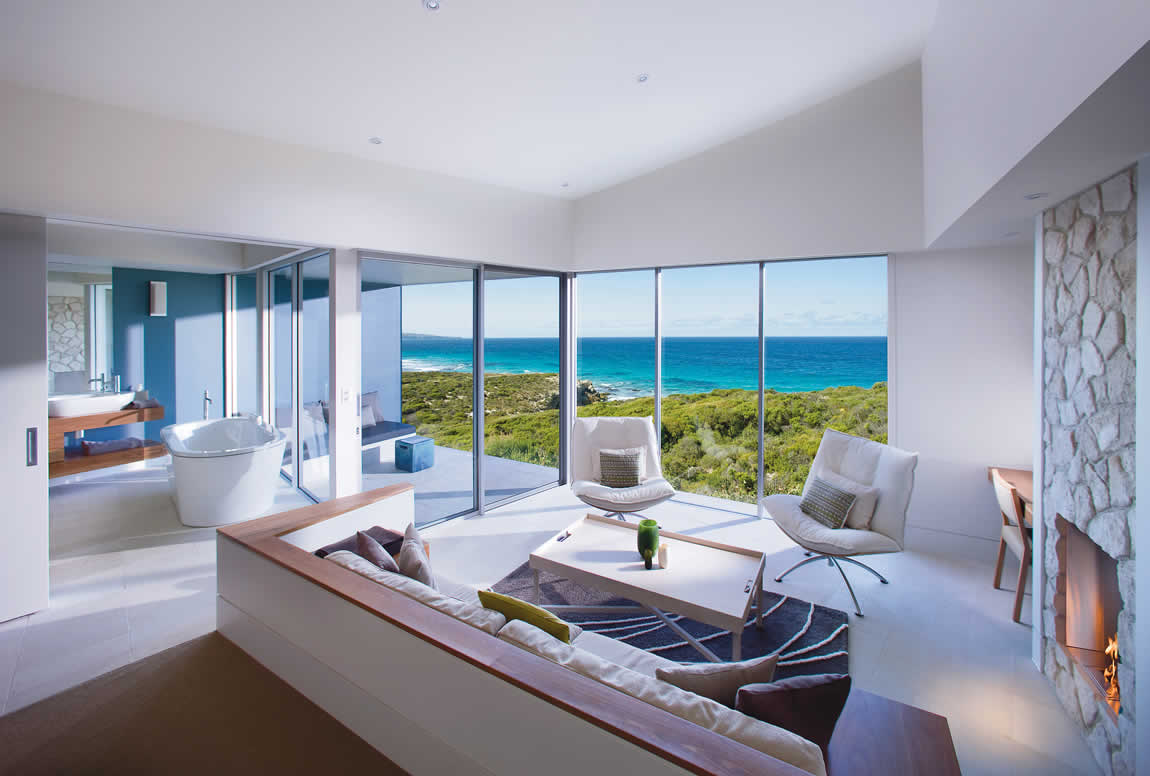 Sitting atop towering cliffs with panoramic views of the mighty Southern Ocean, the nature-inspired Southern Ocean Lodge is one of a kind.
This 21-suite eco lodge is a sanctuary for its guests as they explore the wildlife wonders of Kangaroo Island. Known as the 'zoo without fences', you and your partner won't need to wander far before bumping into kangaroos, sea lions and plenty of other native animals.
If you're looking to switch off – there's limited phone signal and rooms are without TVs – and spend some quality time together in secluded luxury, this is the place.
Where is it?
Following an hour and a half drive from Adelaide and 45-minute ferry ride to Kangaroo Island, the lodge is located on the island's south-west coast.

Who's it best for?
A quiet island escape for nature-loving couples.
Paperbark Camp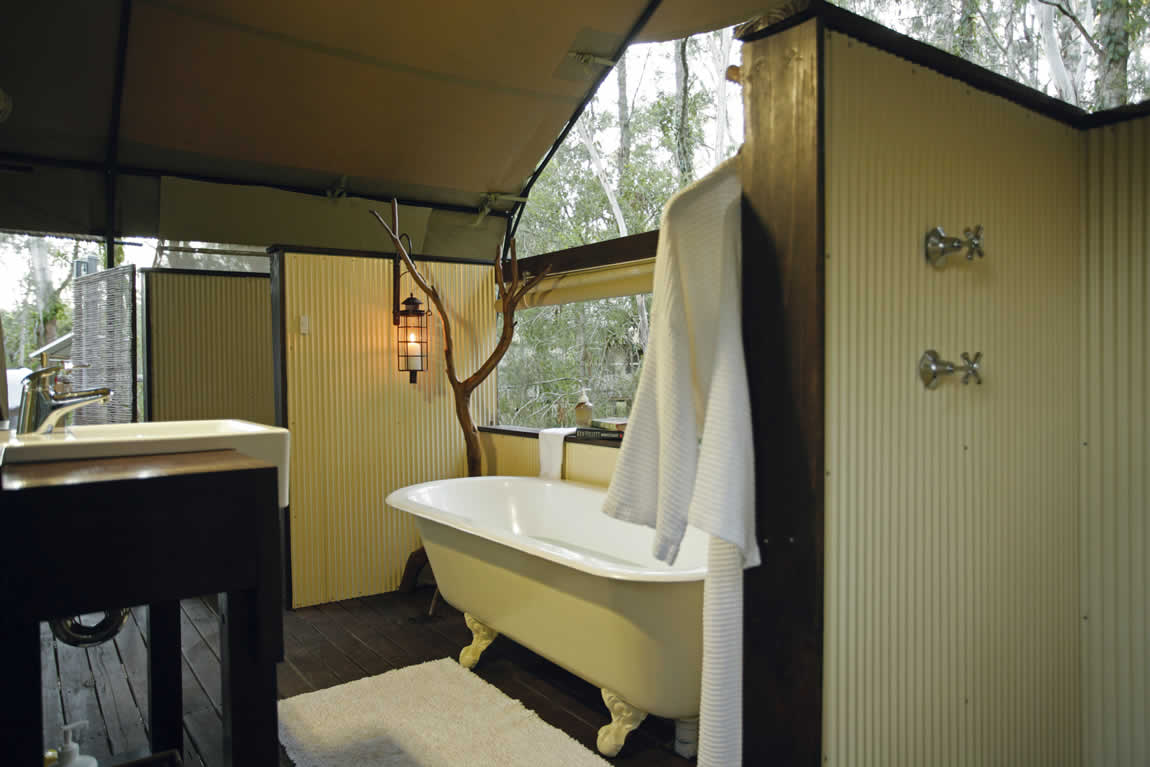 Glamping for grown-ups sums up Paperbark to a tee. The camp's laid-back, under-stated appeal makes it the ideal bush retreat for couples looking for a peaceful, back-to-nature experience.
But don't fret, Paperbark's 12 safari-style tents are kitted out with all the essential amenities. High-quality linen, queen-sized beds, en suite bathrooms complete with free-standing baths, and of course, full insect screening.
You won't be short on fun activities to while away the day either. Go for leisurely bush walks, or take advantage of the camp's complimentary bikes and canoes. This is eco-tourism at its best.
Where is it?
A two and a half hour drive from Sydney and close to the pristine beaches of Jervis Bay.

Who's it best for?
Couples who enjoy the great outdoors.
Shangri-La Hotel Sydney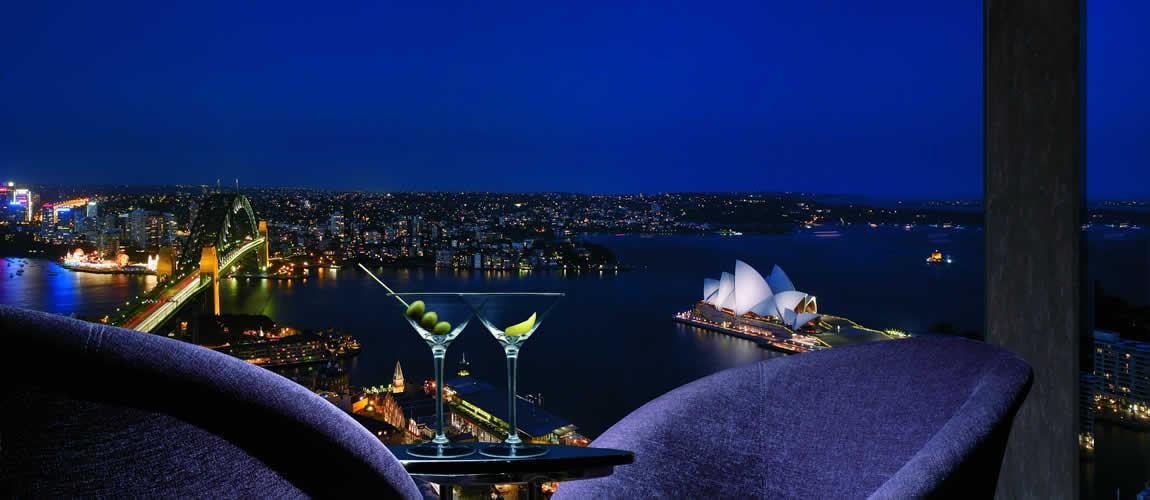 While you can take your pick from five-star hotels in Sydney, few can rival the impressive harbour views of the Shangri-La. Though for the very best vistas, ask for a room on level 30 or up.
The hotel offers everything you could possibly want from a couples break. Pool, tick! Sauna, tick! And then there's the Chi Spa if you're in the mood for some pampering. But the highlight has to be romantic nightcaps at Blu Bar on level 36. With the Harbour Bridge and Opera House glistening below – isn't that what we all go to Sydney for?
Where is it?
Right in the heart of Sydney's Circular Quay, with all the major sights on your doorstep.
Who's it best for?
Those who like to be close to the action and want premium views of Sydney's famous icons.
Oscars Waterfront Boutique Hotel
Overlooking the Moyne River, Oscars is a stylish boutique hotel offering the very best in service and private accommodation.
This converted French provincial mansion offers seven individually-decorated rooms that ooze charm and elegance. An ideal choice if you're looking to impress your other half.
Enjoy the hotel's highly-reputed breakfasts in the exquisite river-front courtyard. Alternatively, there's plenty of quaint cafes and restaurants just a short stroll away.
Where is it?
In the pretty coastal town of Port Fairy, the final stop off along the Great Ocean Road.
Who's it best for?
Couples looking for an intimate, personalised stay.
Saffire Freycinet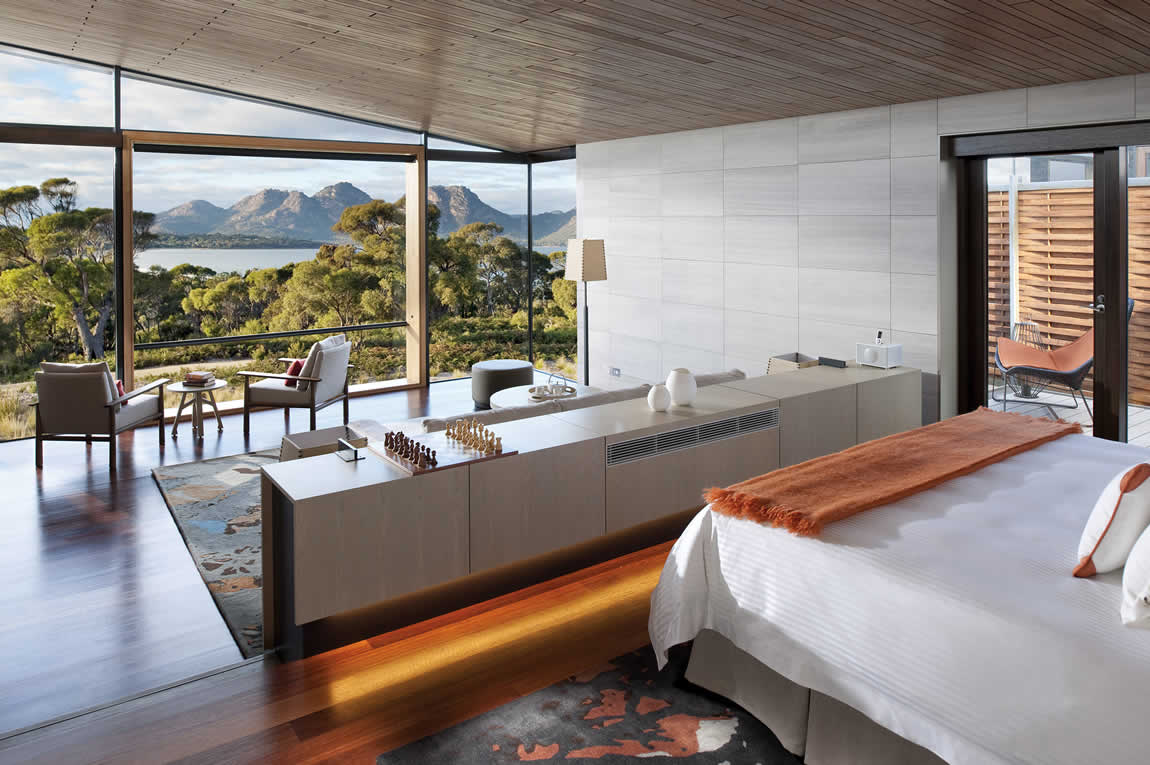 Tucked away in one of Tasmania's most stunning national parks, Saffire is unadulterated escapism.
Suites are sophisticated, contemporary and blend with your external surrounds, which, by the way, are jaw-dropping. All 20 luxury suites look out across the calm waters of Great Oyster Bay to the distant Hazards Mountains. This view certainly has the wow factor. As does the hotel's cuisine – all meals are created with the finest local produce.
What's more, you'll have one of the best views in Australia just down the road. A romantic trip to see the breath-taking moon-shaped arc of Wineglass Bay is an absolute must.
Where is it?
Nestled on the west coast of Tasmania's Freycinet Peninsula, roughly a two and a half hour drive from Hobart.
Who's it best for?
Foodie couples who enjoy romantic meals with incredible views.
Pullman Resort Bunker Bay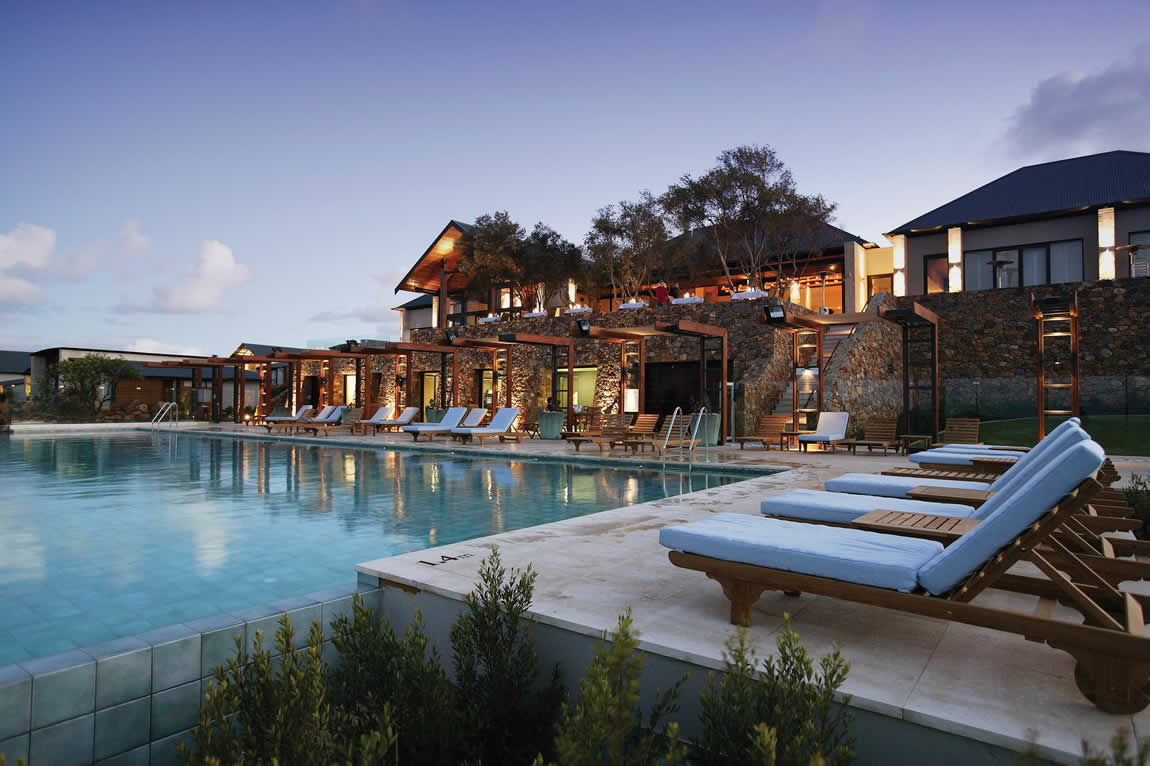 At Bunker Bay you get the best of both worlds. On the one hand there's the inviting turquoise waters of the bay, but when you need a break from the beach, the world-class vineyards of Margaret River are right there too.
Set on 35 acres of landscaped grounds and natural bush, this five-star resort features spacious studios and bungalow-style villas. Relax together in the hotel's infinity pool or wander down to the private beach to paddle in the warm waters of the Indian Ocean.
Where is it?
A three-hour drive from Perth on the coast of Western Australia's beautiful Margaret River region.
Who's it best for?
Beach lovers looking for the perfect spot for barefoot sunset strolls.
So hopefully one of these nine romantic resorts ticks all the boxes for your special occasion. All of them romantic and memorable in their own unique way. You're only problem now – how are you ever going to top your romantic retreat? Luckily, we've given you plenty of ideas here to last you for anniversaries, Valentine's Days and birthdays to come.
Or if you're looking for the perfect romantic destination for your big day or perhaps your honeymoon, take a look at our selection of wedding and honeymoon packages here.