Travelling with your tastes buds is becoming increasingly popular; nowhere demonstrates this better than Australia's southern-most and northern-most states.
For those in the know, the Australian food and wine scene has taken leaps and bounds to become a global source of gastronomic inspiration.

Australia is now considered a brave new culinary world where chefs are heavily influenced by three major cultures: their connection to Europe through early settlers and recent migrants; including British, Irish, Greek and Italians; the second influence derives from close economic ties with Asia, including Vietnam, Japan and China; the third and perhaps most importantly belongs to the Aboriginal culture, the traditional custodians of the land. 
But Australia is such a big country, so rather than spread the net far and wide, let's take a close look at South Australia and the Northern Territory.
South Australia – what's it like?
South Australia is known for its long summers, breath-taking coastline and areas of huge cultural and natural significance, such as Kangaroo Island, the Flinders Ranges and the Eyre Peninsula. There is a lively artistic vibe in the state, emanating from the elegant city of Adelaide, a coastal community gaining a well-deserved reputation for harbouring some of the best dining experiences in the country. Add to that list the prevalence of world-renowned wine regions, including the iconic Barossa, and you begin to realise there is quite a bit to do, see and eat for the insatiable food and wine tourist.
Adelaide's capital culinary delights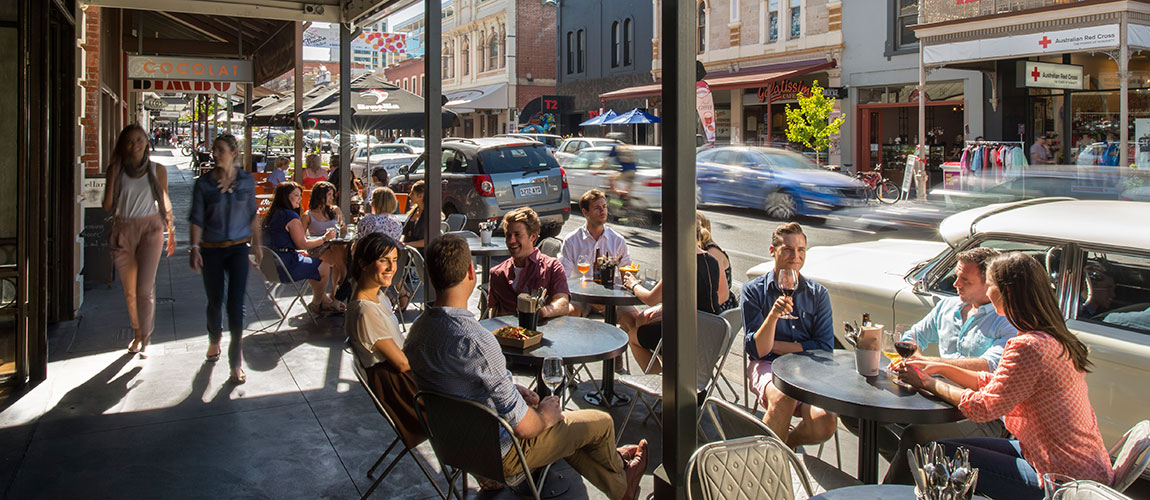 Prepare to be entertained by the arty vibe in South Australia's capital Adelaide. Not only are you treated to an abundance of al fresco cafes and restaurants to tempt you to the beach at Glenelg, but you will also be drawn into the city to new wave pop-up bars, dessert bars and chic eateries at locations such as Leigh Street, Gouger Street and Rundle Street. 
Yet the feather in Adelaide's cap and perhaps the main reason for its burgeoning global foodie reputation, are the 200-plus cellar doors within an hour's drive of the city. So, with so many food and wine delights for you to discover – here are a few suggestions on where to take your appetite. 
Tasty destinations for foodies in South Australia:
Wine tours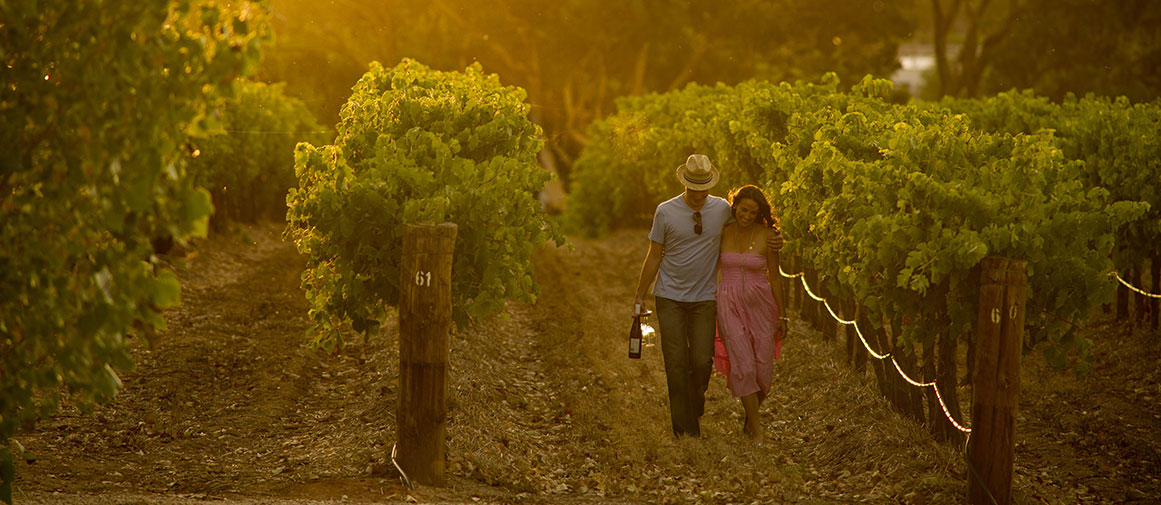 There's a big foodie scene in the Barossa wine region, famed for its Shiraz and range of fresh local produce. Penfolds and Jacobs Creek are just two famous labels to come from this region. Must-do and see attractions here are in their plenty, with everything from having breakfast with the kangaroos at The Louise to the "Make Your Own Blend" experience at Penfolds and hot air ballooning to cycle trails that link the vineyards with quaint towns. We recommend you visit during the Barossa Gourmet Weekend, a three-day festival of food and drink and a guaranteed feast for all the senses. 
Link up all the food and wine regions in South Australia by following the Epicurean Way itinerary. The perfect trip for your taste buds, taking you around four of Australia's premier wine regions. Stop off at the world-famous Barossa, picturesque Adelaide Hills, McLaren Vale and Clare Valley. Drop by at cellar doors, sample some prize-winning wines and treat yourself to some local produce at gourmet restaurants set amid verdant vineyards. In the McLaren Vale wine region you can buy a McMurtrie Passport Card and embark on your own tasting tour of cellars, restaurants and art galleries in the region at any participating venue. These include famous labels from the Wirra Wirra, Primo and Red Poles wine estates. And when you're gagging for a drop of the amber nectar, drop into the McLaren Vale Beer Company who will be more than happy to quench your thirst.
Eyre Peninsula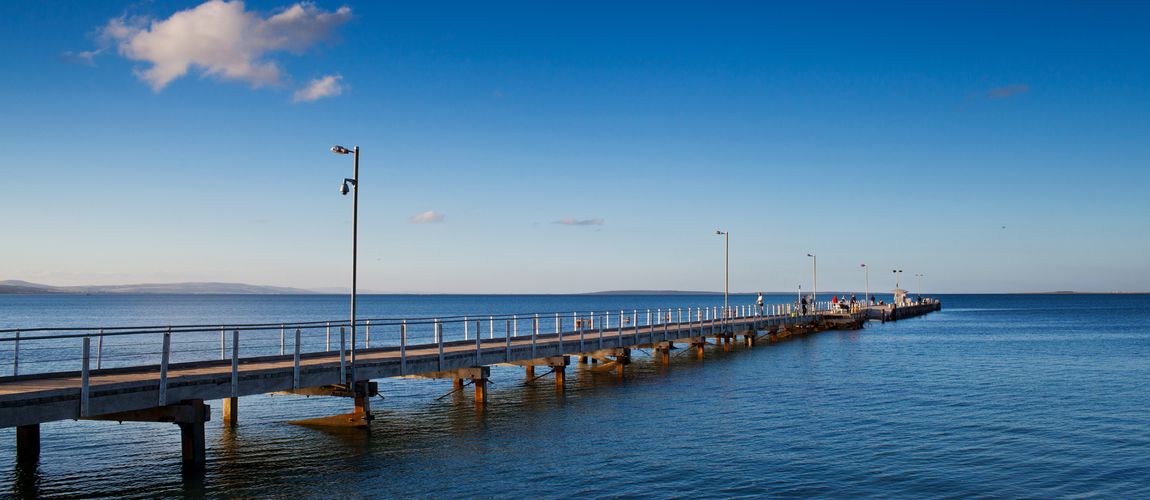 Discover the beauty of the Seafood Frontier in the gorgeous Eyre Peninsula, a unique visitor experience that showcases seafood and aqua culture that dedicated seafood lovers will enjoy. This is a fascinating tour of the Australian fisheries industries, ranging from big commercial ventures to small family-run businesses. It's your chance to discover the provenance of fresh produce along this idyllic stretch of coastline and appreciate how seafood has become a major factor in the modern Australian diet. Make sure to sample the smoked and pickled fish and oysters straight from the ocean. 
Kangaroo Island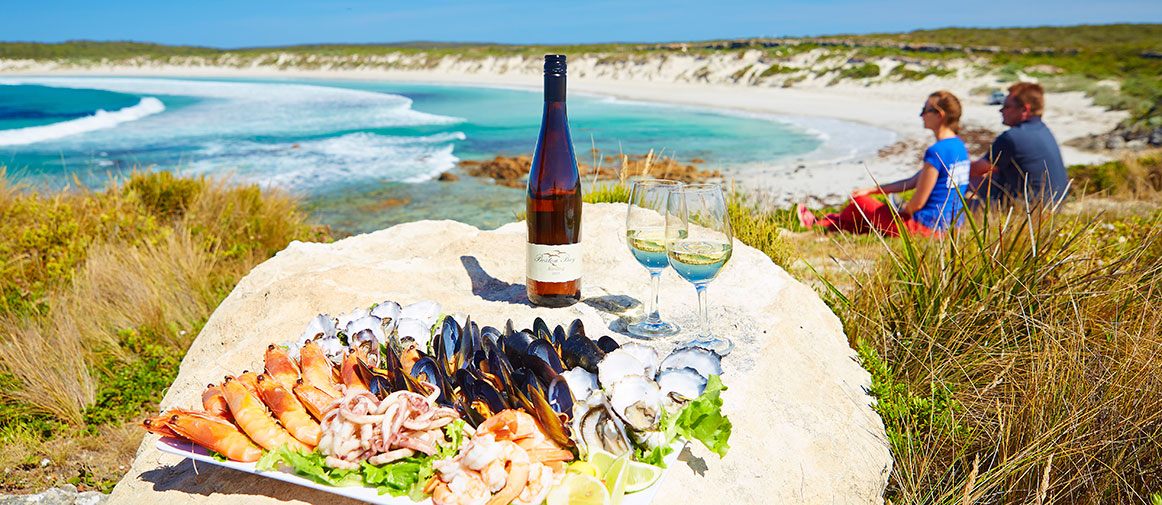 FEASTival on Kangaroo Island (Australia's third largest island situated across the bay from Adelaide) is your opportunity to attend an eight-day celebration of food from the land and sea that not only highlights some authentic dining experiences but also the rich culture and history of the island – a must-do for any dedicated foodie. It is here you can truly savour the seafood which is plucked daily from the sea, crack open some freshwater crayfish or feast on spit-roasted organic lamb. Kangaroo Island's artisan producers further enhance this veritable feast, with Ligurian bee honey straight from the hive and handcrafted cheese made from sheep's milk.
Northern Territory – what's it like?
The Northern Territory is all about location and personality, from the Top End's tropical capital of Darwin to its Aboriginal roots in the Red Centre and the mystical Uluru found in the Southern Desert. 
To the north, verdant wetlands are irrigated by monsoon storms in strong contrast to the sand dunes and red ochre landscapes found in the south. Spectacular sights such as Katherine Gorge and World Heritage-listed Kakadu National Park ensure that your epicurean adventure will linger long in the mind long after the delicious food has disappeared from your palette.
Tropically cosmopolitan Darwin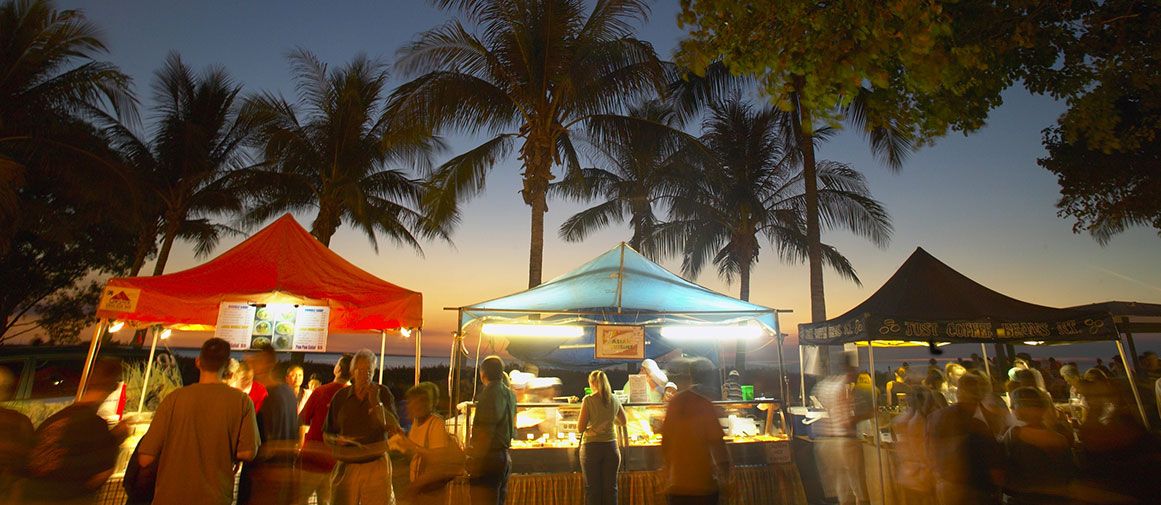 Darwin's secret lies in its close proximity to South East Asia and the conveyor belt of culinary tastes that flow in a smooth stream of consciousness down to the citizens of this thriving city. Thai, Malay and Chinese and particularly Sri Lankan stalls can be found at popular foodie haunts on Mindil Beach at the aptly named Mindil Beach Sunset Market. 
Tasty destinations for foodies in the Northern Territory:
Award-winning restaurants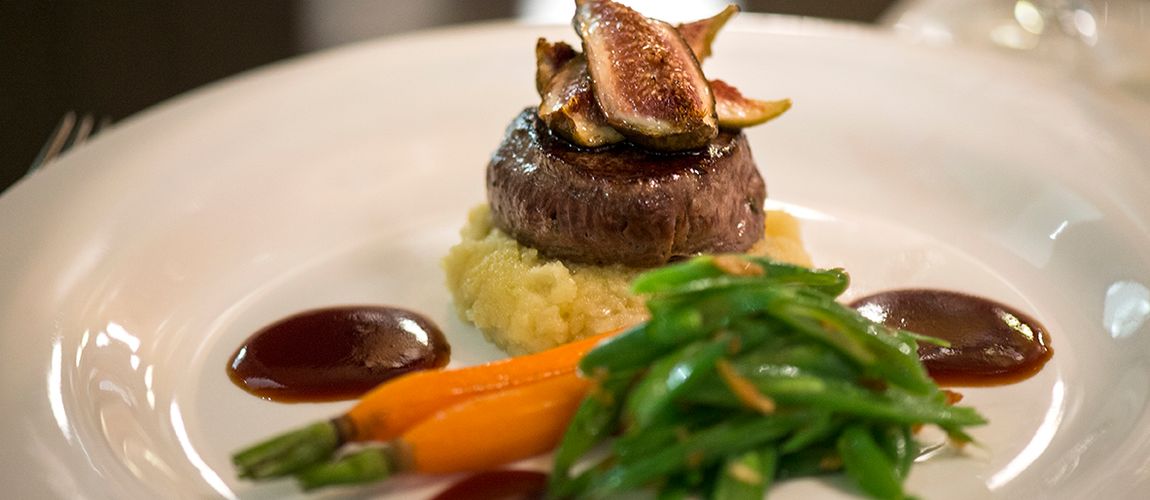 Indulge yourself in some serious Darwin dining, where the city's top chefs are certainly spoilt for choice, with an abundance of fresh seafood to inspire them. The dining scene in the city is thriving and there are some fantastic restaurants; like the award-winning Char, situated on Darwin's Esplanade and serving up excellent steak menus, Hanuman with its superbly authentic mixture of Indian, Thai and Nonya (Chinese/Malaysian) food. Chow is a delicious Vietnamese eatery at the waterfront precinct, and for some decadent dining EVOO is consistently ranked high as one of the best restaurants in the Northern Territory. Cove at Darwin's five-star SKYCITY casino, nestling by a tranquil lagoon and offering contemporary and classic cuisine in luxurious surroundings should also be high on your list of restaurants to visit, along with PeeWees at the Point which was recently voted number six in the top 10 Australian restaurants. 
Outback dining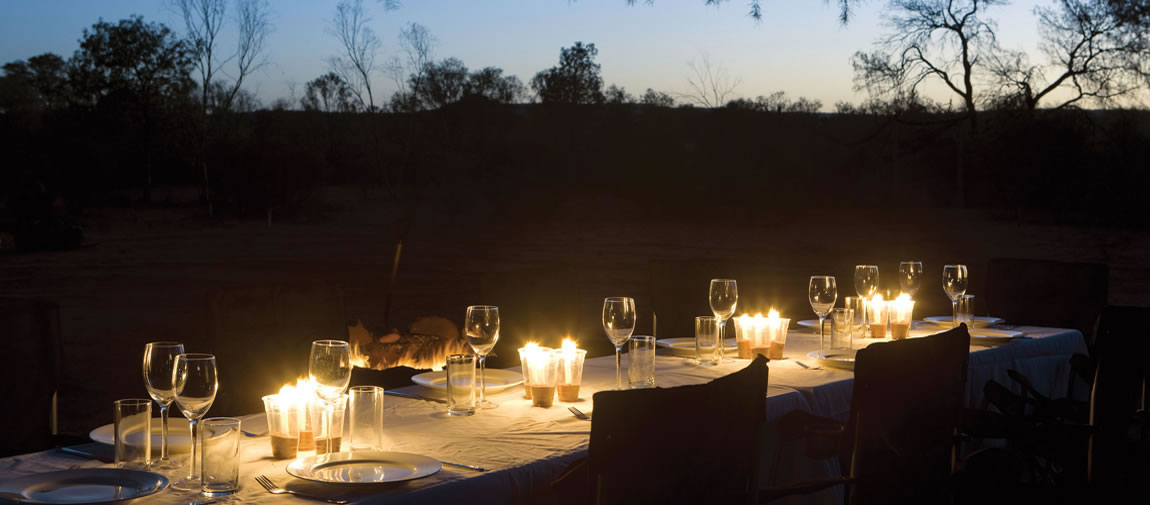 Try the wonderful Mbantua Dinner experience with international chef and descendant of the Arrernte people, Bob Taylor, at Simpsons Gap near Alice Springs. You will be picked up from your chosen hotel by Bob and driven out to the West McDonnell Ranges and your bush dining setting, for a memorable starlit outback experience
Just three hours drive from Darwin, Cicada Lodge atop Katherine Gorge is a high-end food experience set within a serene resort, 100% owned by local indigenous people of the Jawoyn tribe, with food prepared from fresh local ingredients. 
Dine in luxury at Bamurru Plains in the Mary River wetlands, adjacent to Kakadu and be enveloped in nature. This luxurious and unique bush lodge experience includes a plethora of birds and wildlife, safaris, river cruises, fabulous accommodation in the form of safari bungalows and so much more. Fine dining and great wine is a key part in the overall experience and it's all included in the cost of your stay. Enjoy both native and locally sourced produce, together with authentic, yet contemporary Australian dishes, from kangaroo skewers to crispy barramundi. The overall philosophy of Bamurru is to provoke, inspire and reconnect guests to the bush. Tali Wiru is a unique destination, with nothing comparable in this region of the Southern Desert. The stillness of the landscape provides the ambience with distant views out to Uluru. As the sun sets the sound of didgeridoos evoke the spirit of ancient cultures. The food here is evocative of the surroundings; with a four course, fine dining menu atop a private sand dune creating a very intimate ambience. The evening ends on a beautiful note, seated around the camp fire admiring the Southern Hemisphere star cluster in the clear night sky.  
Australia is embracing its ancient and recent cultural history and this is in evidence by the way it presents food on the table. The country offers dining experiences which you will find hard to improve upon. It's not just the quality of the fresh food that you will remember, but the dramatic opportunities to dine out within a diverse and spectacular landscape.
Whether you dine under the stars in a tented village in the desert, or sit by the beach sipping quality wines from some of the world's best vineyards, we guarantee you one thing – Australia, as always, will surprise you.