There's no shortage of amazing animals to see in New Zealand's ancient wilderness. With many of them native to the country, a holiday here is your chance to see wildlife that you won't find anywhere else in the world.
Wildlife encounters are one of the most rewarding and exciting New Zealand travel experiences. You can get up close with many of New Zealand's animals in wildlife sanctuaries and dedicated conservation reserves. However, nothing beats seeing these unique creatures in their natural habitat.
From finned giants to the iconic feathered residents, here are our top picks for the best New Zealand wildlife encounters you can have while visiting this extraordinary country.
1) Whale watching in Kaikoura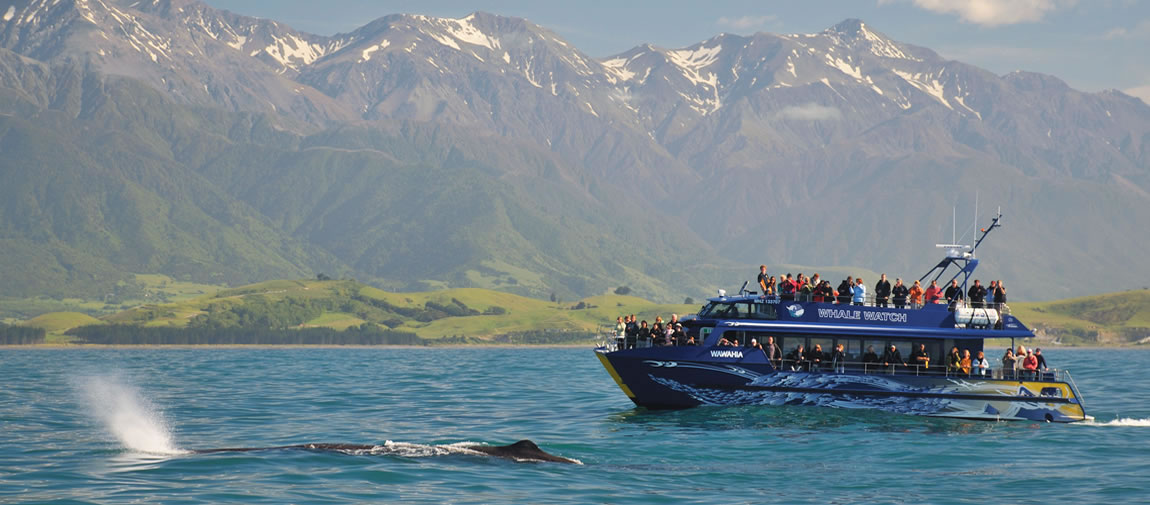 Kaikoura is the whale watching capital of New Zealand, with year-round sightings of the sperm whale – the largest toothed predator in the world.
There's something special about catching sight of these majestic animals in the open ocean but the crew at Whale Watch Kaikoura can go one better. As New Zealand's only vessel-based whale watching company, they offer visitors exciting up-close encounters with these graceful giants in their natural environment. Their specially-designed catamarans and experienced on-board whale spotters ensure you'll have a memorable whale watching experience.
While sperm whales are the stars of the show, depending on the season, you may also see migrating humpback whales, pilot whales, blue whales and southern right whales. Plus, Whale Watch tours include a visit to a seal colony, possible dolphin sightings and the chance to see a variety of seabirds. It really is the ultimate marine wildlife adventure.
Add Whale Watch Kaikoura to your trip here.
2) Kayak with seals in Abel Tasman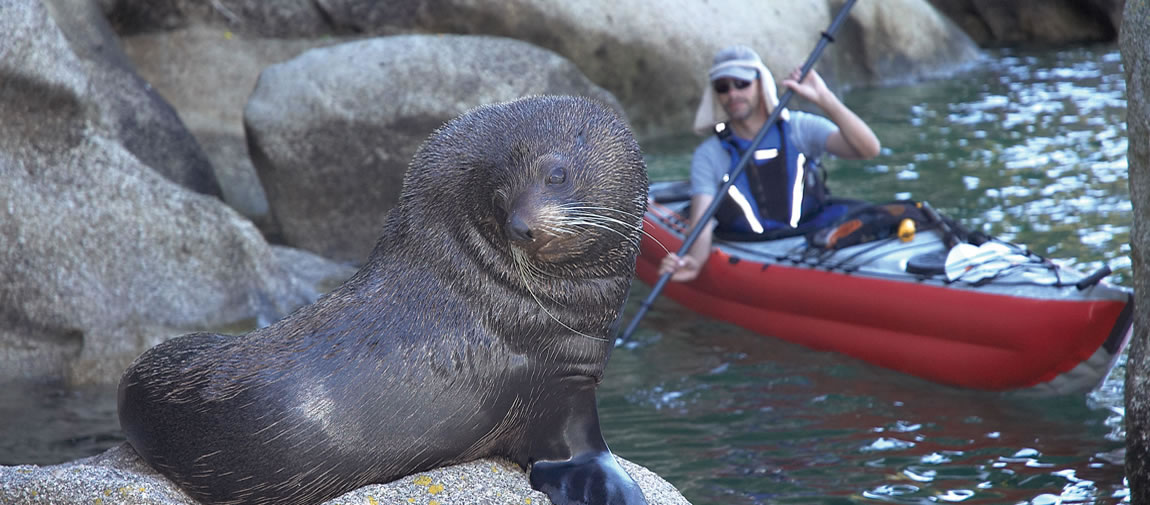 Abel Tasman may be New Zealand's smallest national park, but it's also one of its finest. From golden-sand bays and lush coastal bush, to crystal-clear waters and a world-famous walking track, you can spend days exploring this natural paradise.
If you do have a few days to spare, there are also some friendly flipper-clad creatures who are well worth seeking out. New Zealand fur seals are the most common seals in New Zealand and though once at risk, their population is growing.
Experience a close encounter with these sociable seals on a multi-day kayaking tour. Once your guide gives a full safety briefing, you'll set off around Abel Tasman's beautiful bays and beaches in search of wildlife and spectacular views (they're not hard to find!).
Showing off their water acrobatics or snoozing on a rock, the fur seal colony on Tonga Island is certainly a highlight of this kayaking adventure. You'll circumnavigate the island to see the adult seals and their pups, and if you're lucky some of the more inquisitive seals may even glide up to say hello.
Add the Abel Tasman 3-Day Kayak and Walk to your trip here.
3) Spot a kiwi at ZEALANDIA in Wellington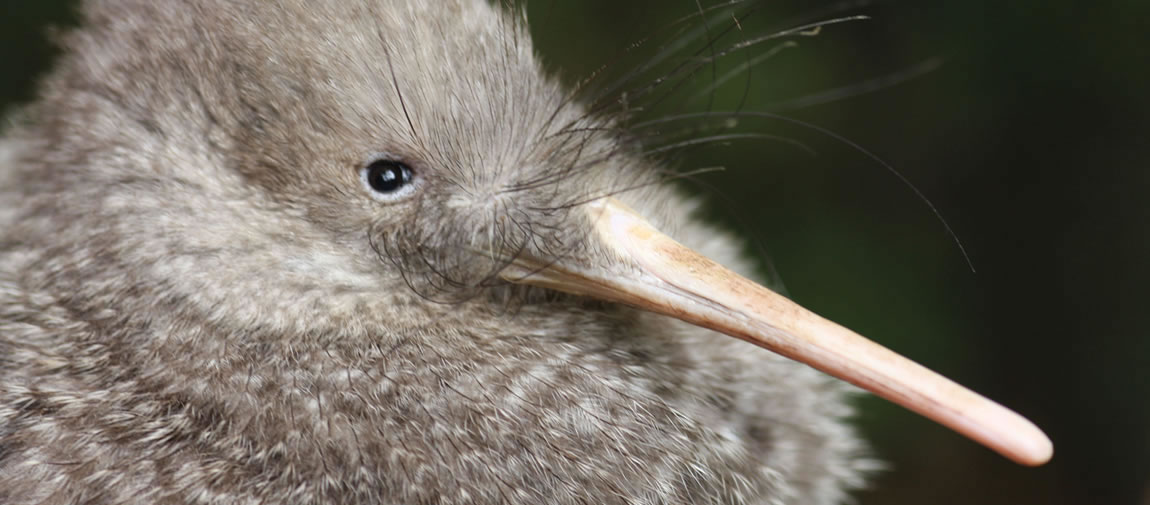 As kangaroos and koalas are to Australia, the cute – yet feisty – kiwi is to New Zealand. This iconic and endangered bird is the nation's darling and a cultural emblem.
Though numbers are recovering, it's rare that you'll have this rather shy, flightless bird cross your path in the wild. However, there are a huge number of nature reserves and conservation sanctuaries that protect their population and offer visitors the chance to see them up close.
One in particular is ZEALANDIA – an impressive fully-fenced urban eco-sanctuary located ten minutes from the centre of Wellington. Although a controlled environment, the sanctuary mimics the natural habitat of the resident fauna and flora. This includes the little kiwi and the forty plus different species of native birds that live there.
See how many of the birds you can spot, but catching sight of a kiwi may be a little trickier. Kiwis are nocturnal and spend the day sleeping inside their burrows, so for a chance to meet one, you'll have to visit ZEALANDIA after dark on one of their fantastic night tours.
Add ZEALANDIA to your trip here.
4) Swim with Hector's dolphins in Akaroa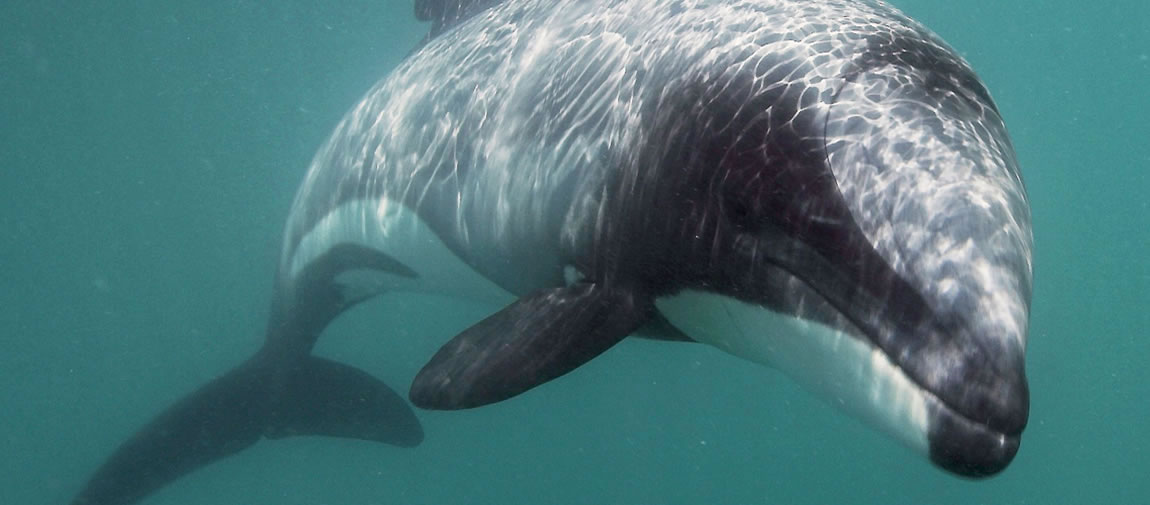 Don't miss your chance to see, and swim with, the world's smallest and rarest dolphin – Hector's dolphin.
Named after the acclaimed Scottish naturalist, Sir James Hector, you'll find these friendly finned creatures riding the waves around South Island. But if you want to get really close to this unique species, there's one place you need to go – Akaroa. About an hour and a half's drive from Christchurch, it's the only place you can interact with Hector's dolphins in the water.
Needless to say, the likelihood of you seeing or swimming with the dolphins is extremely high. Firstly, because these curious and playful mammals love people frolicking in the water with them, but also because tours, such as the award-winning Black Cat Cruises, offer a 'dolphin guarantee'.
If you don't get a glimpse, they'll refund part of what you paid. But with their 97% success rate in dolphin spotting, and 83% successful swim rate, you'd have to be fairly unlucky. Book early though, their tours fill up quick!
Add Dolphin Swim Akaroa to your trip here.
5) Penguin spotting on Stewart Island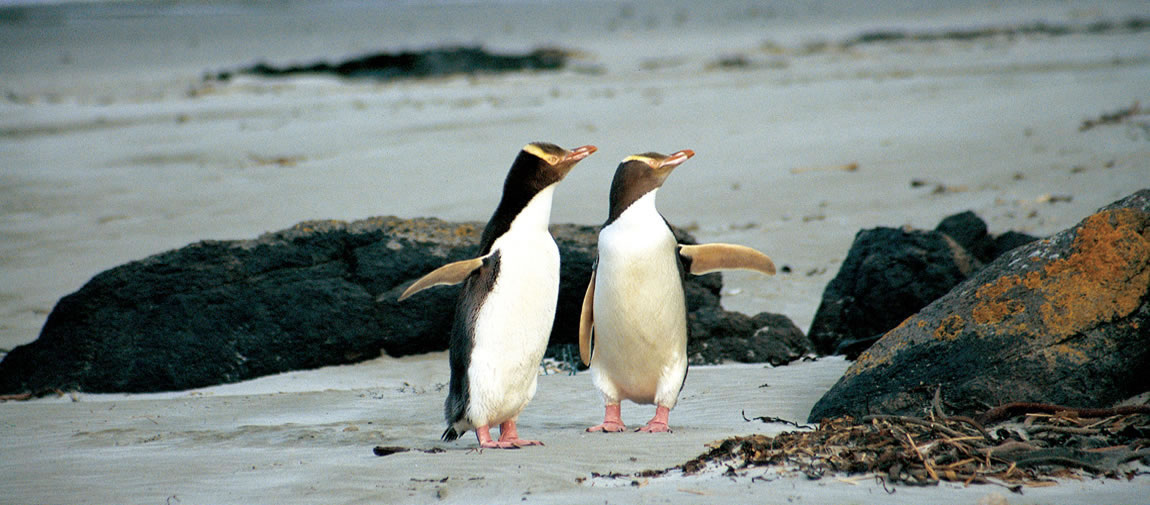 Stewart Island is arguably one of the best places to see a variety of New Zealand's native birds, with bird watchers from all over the world flocking to see the island's thriving bird populations.
As the third largest island in New Zealand and with over 85% dedicated national park, it's no surprise that Stewart Island's shores are a haven for both land and sea birds. The weka, kaka, albatross, the flightless Stewart Island kiwi, silvereyes and fantails, are just some of the birds you can see. Alternatively, visit Ulva Island, just offshore, where you'll find a predator-free bird sanctuary with dozens of these native species.
But perhaps the most significant sighting for the non-bird enthusiast is a chance to encounter the endangered yellow-eyed penguin. These rare penguins waddle among the rocks of Stewart Island's coastline and for your best chance of spotting them, have a look around the island's wharf in Oban at dusk. Their distinctive yellow headband makes them extremely easy to identify.
Add a stay on Stewart Island to your trip here.
For more wildlife experiences across Australasia, visit our wildlife holidays page for inspiration and package ideas.