There's no better way to explore nature than to spend some time in the heart of it.
Discovering the unique nature is a highlight for many when visiting Australia, home to some of the most diverse wildlife and scenery on this Earth. We're lucky enough to offer some of the best experiences out there, and have whittled it down to five of our favourites for nature-loving people. 
1) Lady Elliot Island, Great Barrier Reef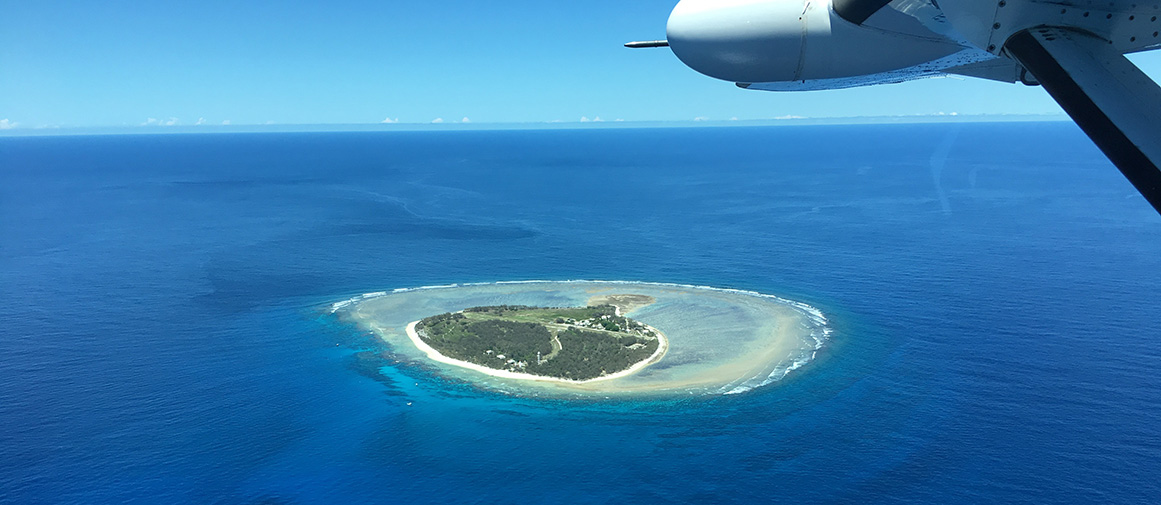 Lady Elliot Island, also known as 'the home of the manta ray', is a picture-perfect coral cay that can be found on the southern tip of the stunning Great Barrier Reef. The island's reef homes over 1,200 species of beautiful marine-life including turtles, clownfish and an abundance of manta rays – the perfect place to explore the mythical underwater world.
The resort offers a range of accommodation options, from cabins to two bedroom suites, all ensuring minimal impact on the islands unspoilt environment. The resort team dedicate their time educating guests on the island's delicate surrounding eco-system whilst creating a personalised service for all their guests.
As well as the wonderful snorkelling, diving and glass-bottom boat experiences, you can enjoy an array of unforgettable activities both on and off land whilst spending your time on this marine-life haven. Join the memorable turtle watching tour which can be experienced between November and February. Once the sun has set on the island, green and loggerhead turtles return to the very same beach that they hatched from, to lay eggs of their own. Between February and April, once the nesting season is over, the islands guide will take you to the best spots to watch the tiny hatchlings make their way into the ocean.
For an exciting land experience, opt to join the daily bird-watching tour, with a huge variety of spectacular birds stopping here on their migration path - a bird-lovers delight. Other activities include historical tours, star gazing, reef walks and walking trails.
2) Southern Ocean Lodge, Kangaroo Island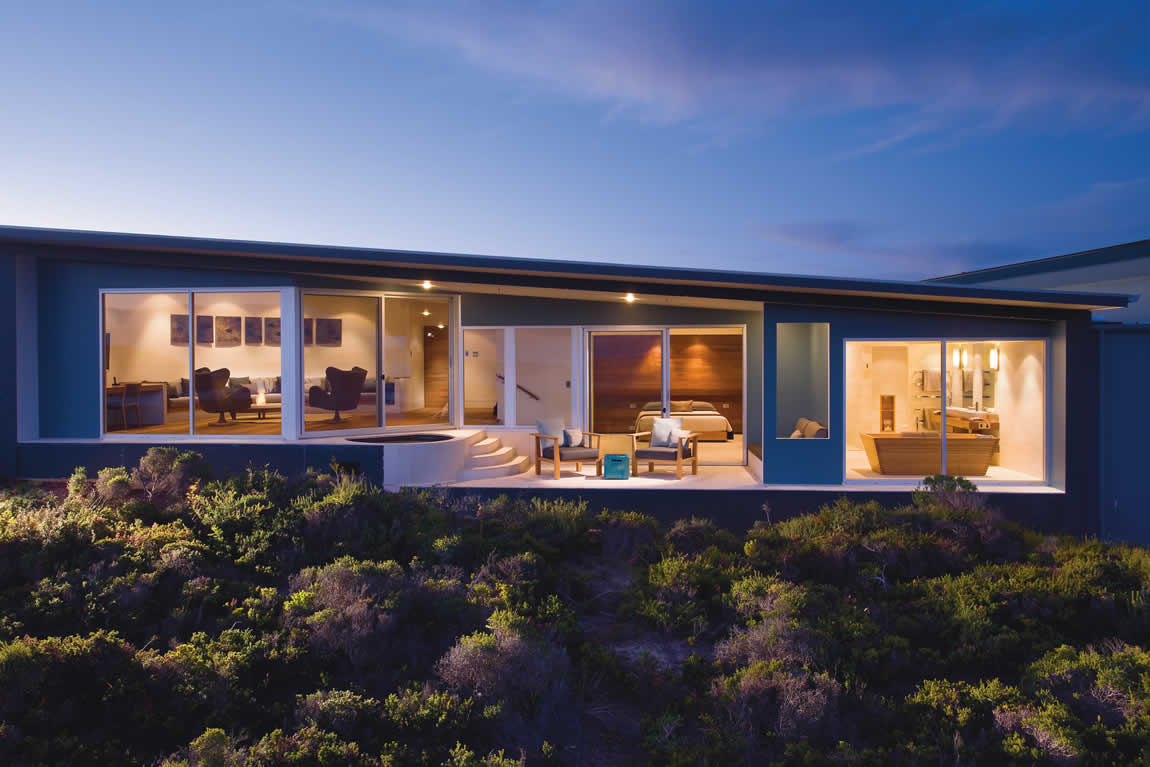 Perfectly located on a secluded clifftop overlooking the rugged shoreline, Southern Ocean Lodge is the perfect place to immerse yourself in Kangaroo Island's beautiful wilderness. Offering plush, contemporary suites, and the opportunity to encounter an abundance of unique wildlife in the 'zoo without fences', with over a third of the island protected in nature reserves.
As well as experiencing ultimate luxury during your stay, every guest receives a signature itinerary of selected guided excursions, designed daily to make the most of the islands untouched wilderness. A typical day would start with a delicious, gourmet breakfast overlooking the turquoise lapping waves, followed by a guided walk, exploring Kangaroo Island's surrounds with the possibility of echidnas, koalas, kangaroos and other unique wildlife crossing your path.
Head to the Seal Bay National Park, home to over 1,000 rare Australian sea-lions. Walk amongst them as they sunbathe on the white sands or spot mothers playing with their pups on the picturesque shoreline. Sample the local produce at lunch, relax on your outdoor terrace with the ocean as its backdrop or indulge in a signature treatment at the spa.
Combine a delightful culinary experience whilst watching the dramatic sunset over the Atlantic, a perfect end to a wonderful stay.
3) Monkey Mia Resort, Sharks Bay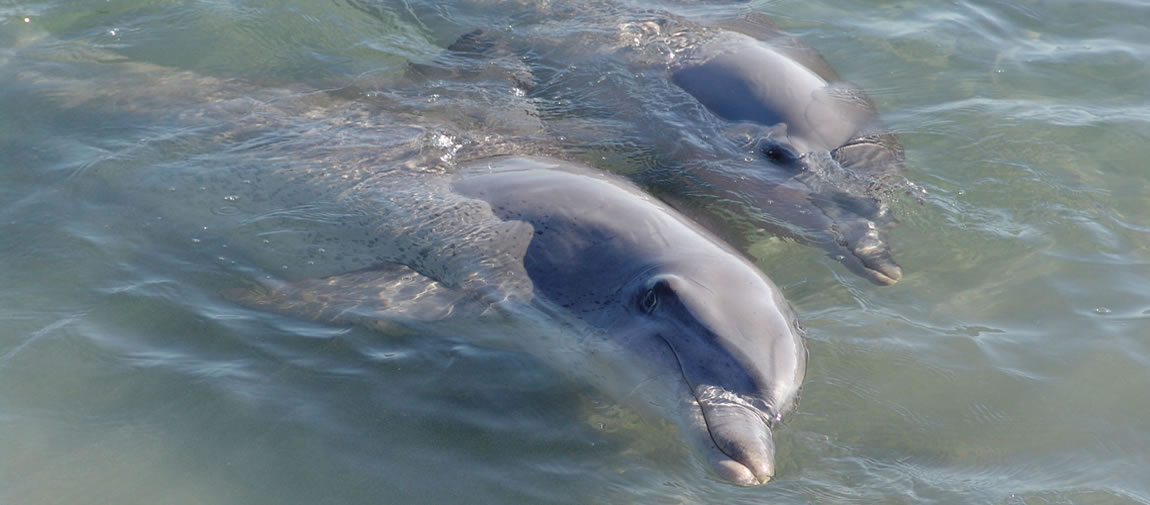 Crystal-clear oceans, unspoiled surrounds and home to one of the world's best known dolphin encounters. Monkey Mia Resort is situated in the mid-coast Shark Bay UNESCO World Heritage area in Western Australia, and offers a range of eco-friendly accommodation and facilities, from campsite spots to beachfront rooms.
This sustainable resort offers a variety of unforgettable activities. Although all pretty exciting, the most obvious and most spectacular experience is the close meeting with wild bottlenose dolphins. The resident dolphins come to the picturesque shoreline every evening to meet us intrigued humans waiting to get a glimpse of these beautiful creatures. The Monkey Mia staff are confident in their meetings too – in the last five years, the dolphins have missed four days!
As well as meeting the remarkable dolphins, other activities include self-guided kayaking, giving you the chance to spot an abundance of marine-life, camel rides along the white-powdered beach, stargazing, aboriginal culture tours, catamaran cruises and a visit to the eco-friendly ocean park aquarium. Alternatively, opt for 4WD car-hire and explore Australia's largest bay at your own pace. Discover look-out points, secluded beaches and endless natural beauty. 
4) Bamurru Plains, Kakadu National Park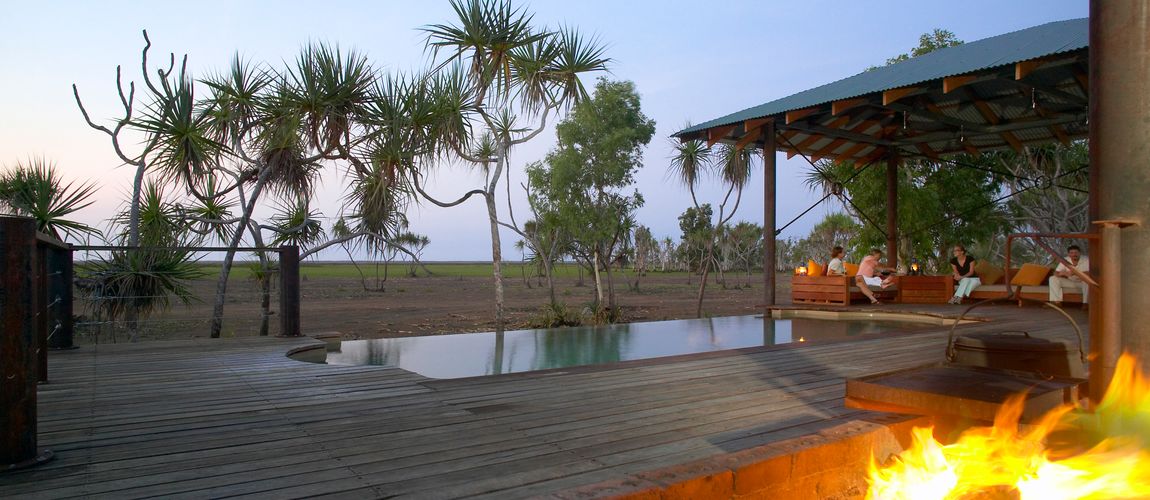 Immerse yourself in the rugged wilderness that surrounds this unique safari lodge on the edge of Kakadu National Parks Mary River floodplains. With an abundance of rare birdlife and fascinating wildlife that call these floodplains home and with only 20 guests to admire them with, you can be guaranteed a unique bush experience.
Relax by the plunge pool and witness the gentle wallabies hop along the exotic landscapes and curious water buffalos wander over to sip from the refreshing swimming pool. With no access to Wi-Fi and no mobile reception, you can focus on this wonderful nature around you and truly escape from the hustle and bustle of life.
Experience a thrilling airboat ride across the vast floodplains, spot many of the 236 species of bird and a profusion of other wildlife on an open top game drive, or take a more relaxed river cruise along the Sampan Creek, home to fascinating saltwater crocodiles. If you'd prefer to stay on land, then a guided walk will let you see the wonderful surrounding nature at a slower pace. 
5) Sal Salis, Ningaloo Reef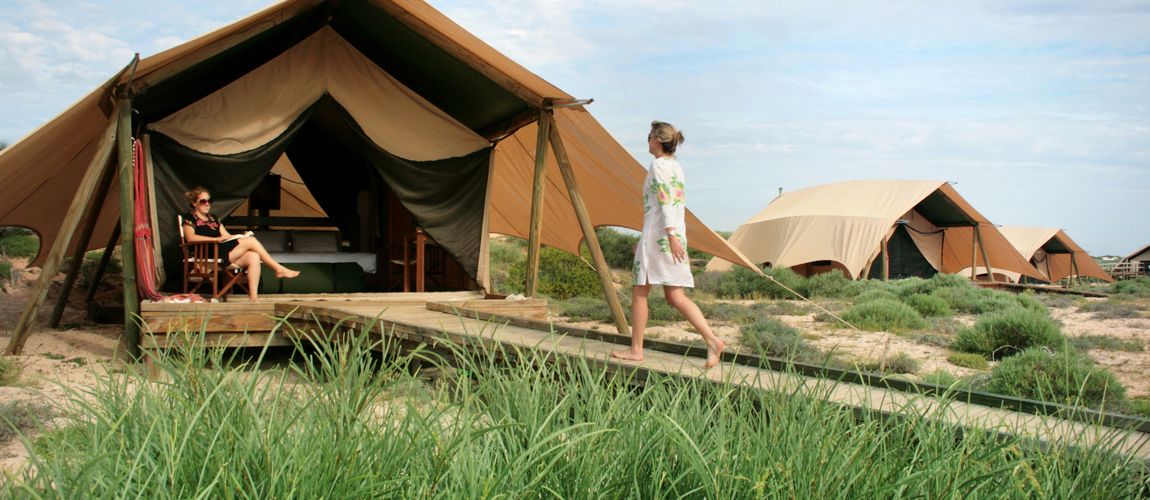 Wake up in your plush eco-tent to the pleasant sound of bird song and lapping waves at this relaxed hideaway where the Outback meets the reef at Cape Range National Park. With just nine luxury wilderness tents nestled between the sand dunes and about 30 metres from the ocean, you can escape reality as you relax on your private deck with kangaroos grazing outside and whales breaching from the crystal waters in the distance.   
During the day, mingle with the neighbouring manta rays, turtles and other magical marine-life that live just off the shoreline in the Ningaloo Reef, or stay dry and explore the national parks surrounding bushland on a guided walk. Indulge in delicious cuisine at the main lodge and enjoy some after-dinner stargazing with a drink in hand in one of the best locations to admire the Milky Way.
If you're visiting this beautiful seaside retreat between March and November, you can have the chance to swim with the oceans largest fish; the majestic whale shark. Between August and November, you can experience a marine-life encounter with majestic humpback whales that can only be experienced in a handful of places in earth; Ningaloo Reef being one of them. 
So, are you tempted to stay on one of the Great Barrier Reef's liveliest marine-life islands? Or perhaps you want to wake-up to the turquoise ocean as your back-drop on Kangaroo Island? Whichever sounds like your idea of ultimate wilderness heaven, don't feel limited to just one. Combine several and make your next trip an unforgettable one.