Flying to New Zealand is exciting, but for some, it's a notoriously long journey. However, when you travel with the country's award-winning airline – Air New Zealand – it's less of a tiresome trip and more of an enjoyable extension to your holiday.
Air New Zealand go above and beyond to ensure your flight is as comfortable as possible while pampering you with all the quirks and perks of Kiwi hospitality. It's more than just great service and high-quality on-board product. It's the little extras and innovations of the aircraft that give you a taste of the country you're flying to, before you even get there.
Here are just some of the unique benefits Air New Zealand give their passengers for an authentically-Kiwi flight experience:
Excellent in-flight service and entertainment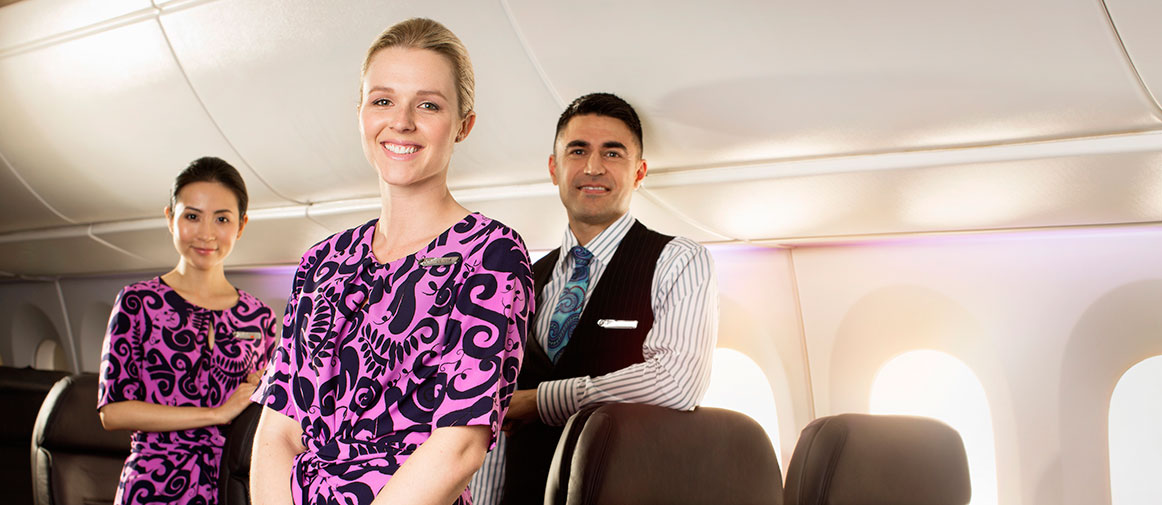 Kia ora! That's the greeting you'll receive as you step on board your Air New Zealand flight. The airline staff are on hand to help you with your luggage, show you to your seat and make sure you're comfortably settled in for the flight. Highly trained and extremely attentive, the crew are eager to make your journey as enjoyable as possible. 
Once seated and on the runway, you'll watch a flight safety demo like this...
Air New Zealand are famous for their celebrity-filled safety videos which in the past have included the cast of Lord of the Rings, Bear Grylls, Betty White and Sports Illustratedswimsuit models. It's certainly an entertaining way to start your flight, not to mention, a lot more engaging than your average flight safety video.
No waiting until you're in the air. Enjoy entertainment on your personal touch screen from the moment you take your seat, to the moment you leave. Choose from the latest blockbusters, classic movies and TV shows, or relax and listen to a huge range of world music, radio shows, audio books and much more. 
The intuitive app-based design of the in-flight entertainment brings you more features and entertainment choice than ever before so you can watch what you want, when you want.
Sit back and relax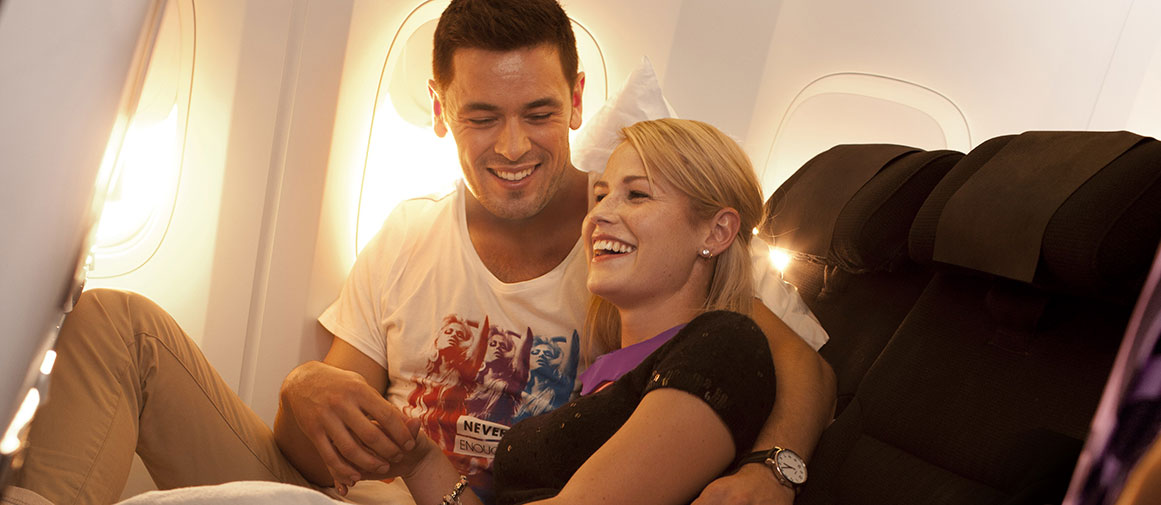 Air New Zealand are at the forefront of airline innovation. With an extremely modern aircraft fleet, including Boeing 767s, 777s and the 787 Dreamliner, you can expect comfortable and spacious seats as standard.
Economy offers comfy seats with generous leg room and winged headrests for when you're ready to doze. Travelling en masse? The revolutionary Skycouch™ is a trio of economy seats that create a flexible space for families with young children, couples and friends alike. Stretch out and relax, or give the kids room to play – it's like having your very own couch on the plane!
For a bit of added luxury, Air New Zealand offers two different types of premium economy seats. You'll find the Spaceseat™ on board the Boeing 777-300ER via Los Angeles. The Spaceseat™ is designed with a fixed hard shell so that the person sitting in front won't recline into your space. It's a unique 2-2-2 configuration, meaning more aisle access, more privacy and the perfect option for couples. If you're travelling via an alternative North America or Asia stopover, you'll enjoy their newly-designed premium economy seating. These spacious leather seats all come with individual armrests, a leg rest and extendable foot support, plus a 41-inch seat pitch and 9-inch recline.
For the best possible sleep-in-the-sky experience, the lie-flat bed in the business premier cabin is as good as it gets. Sporting a luxuriously thick mattress, fluffy duvet and two full-sized pillows, you'll be snoozing all the way. 
Delicious on-board food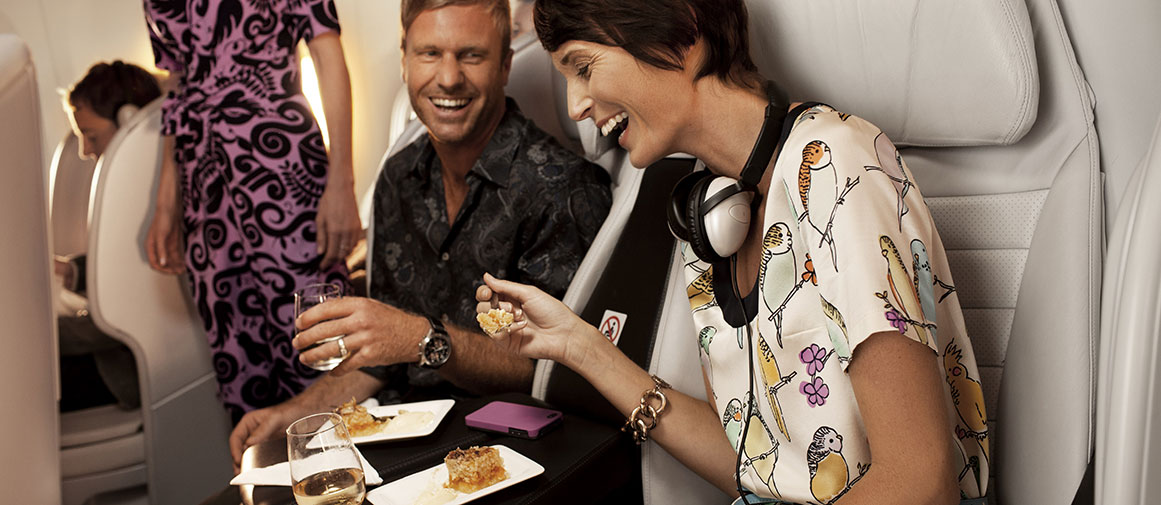 As the airline affirms, "relaxing over a good meal is one of life's great pleasures" and the fresh, innovative cuisine offered on board certainly satisfies the palate. You'll enjoy delicious meals reflecting creative Kiwi cuisine, complemented by an extensive range of specially selected New Zealand wines. If you're flying business class, you can choose from Kiwi-inspired menus designed by the internationally acclaimed chef, Peter Gordon.
While it's always important to stay hydrated when you fly, enjoying a glass of New Zealand's finest with your meal is a must. Did you know that the wines are carefully matched for the unique on-board conditions by a panel of wine consultants? Despite the low humidity and high altitude, the wine tastes just as good as if you were sipping it at the Bellota Restaurant in Auckland.  
In between meals, if you begin feeling a little peckish or thirsty, simply order a snack or drink using your personal entertainment system and it'll be with you in minutes.
Overall, Air New Zealand aims to provide passengers with an experience they'll want to share. The airline is unlike any other in the skies and as their brand promise states, "liberating from the ordinary" is what flying with them is all about. 
If you're considering a trip to New Zealand – the land of immense natural beauty, the haka and Hobbits – there's only one way to fly there.