Western Australia's Coral Coast is one of the best places in the world to swim with the world's largest fish; the majestic whale shark. Here, you can find out everything you need to know about this bucket list experience.
The enchanting Ningaloo Reef is one of only a few places in the world where you can responsibly interact in with the creatures in their natural habitat, and one of the best due to the fantastic clarity of the water. With expert management practices and spotter planes used to assist with the tours, a good swim with the whale sharks is almost always guaranteed and in this part of the world, the number of daily tours are restricted and laws are in place to ensure there is little overcrowding and high respect for the whale sharks.
At Austravel, we offer an incredible day tour that starts with an introductory snorkel on the reef, before venturing out to the deeper waters and jumping in with these gentle giants – a truly unforgettable experience.
Now you know where to go to spot these magical 'dinosaurs of the deep', it's only fair we answer some of those pre-swim curious questions.
So, is there a certain time of year to see the whale sharks?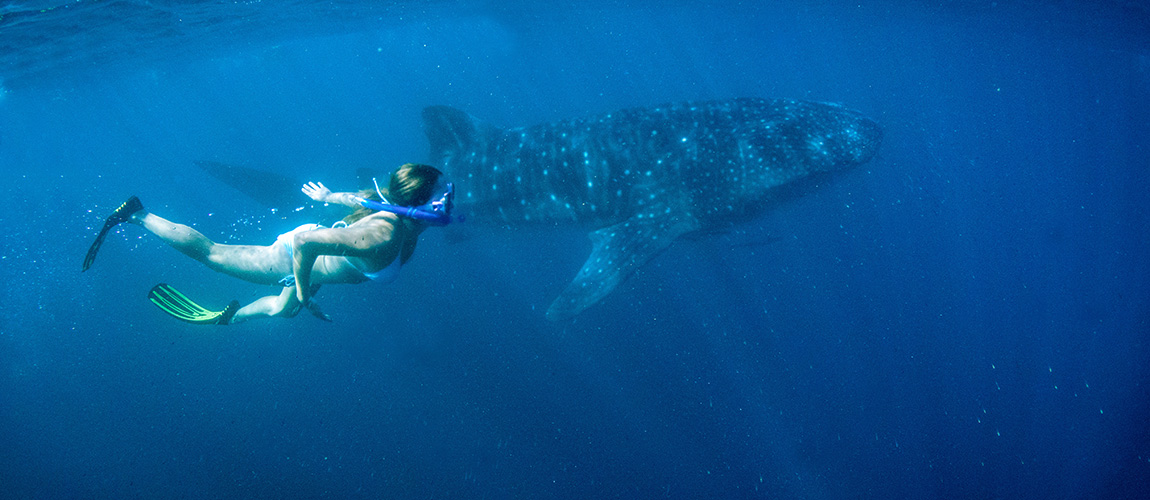 Yes, the whale sharks can be spotted from mid-March up until the end of July, following the mass spawn of coral which begins in March.
Why do they come to the Ningaloo Reef Marine Park?
The whale sharks come to these parts of the ocean to feed on the plankton that has arrived following the mass coral spawn. The whale sharks follow the trails of the plankton, which is why they aren't spotted here year round.
How big do they get?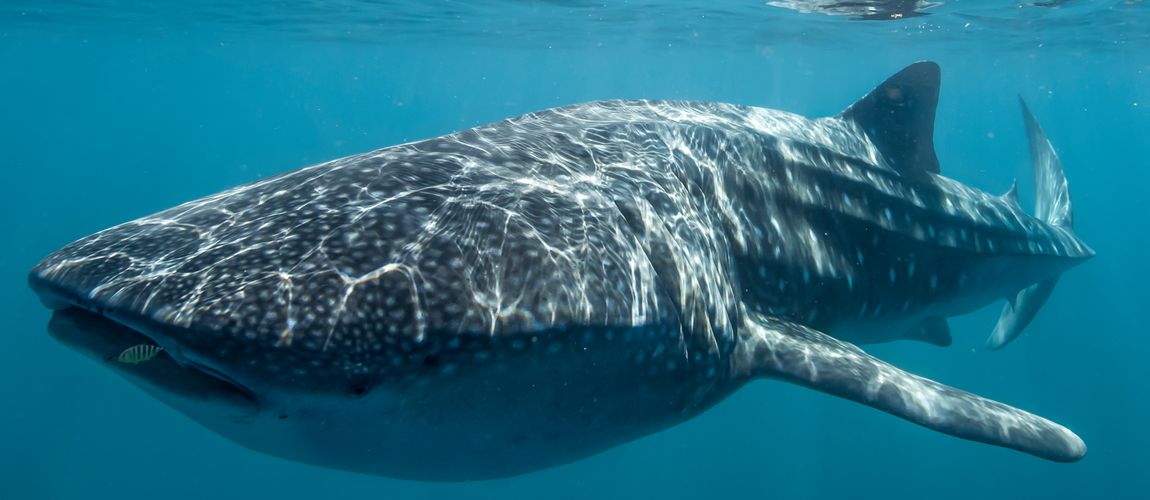 The biggest whale shark ever recorded was 18m in length. The largest recorded in Ningaloo was 12m, but the average size spotted is around 6m.
How much do they weigh?
A 12m whale shark weighs around 11 tonnes and has a mouth over 1m wide!
How long do they live?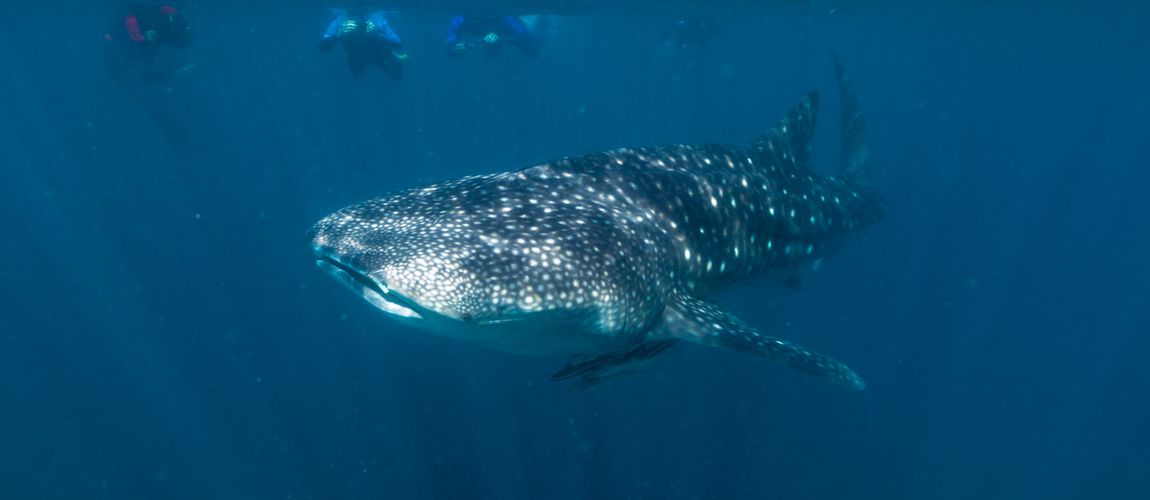 No one is entirely sure; the whale sharks are secretive fish that can dive to almost 1000m making them extremely hard to track, although it is thought they live over 100 years.
What do they eat?
Don't let the size of these giant fish fool you; whale sharks are actually filter feeders, feeding on microscopic plankton and small fish. They cruise through the water with their mouths open wide and strain the water out of their gills.
What else can I see whilst swimming with whale sharks?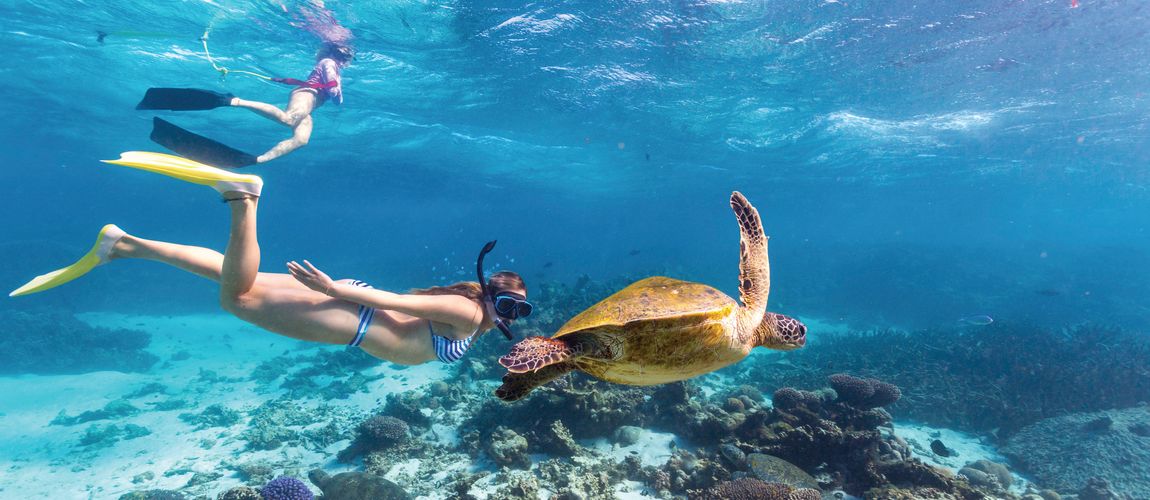 Ningaloo Reef is a flourishing underwater marvel, home to an abundance of fascinating marine life; on any given day you could spot manta rays, turtles, dolphins and endless amounts of tropical fish.
How many whale sharks are there?
Again, due to their shy nature and deep sea diving abilities, the whale sharks are very difficult to track. New photo ID programmes such as ECOCEAN have recently started to track these gentle giants by individual identification of the unique spot pattern every whale shark has – the equivalent of a human fingerprint. So far, there are 300 individual fish identified, and anyone can get help identify more whale sharks and help with conservation by sending their underwater whale shark snaps in to ECOCEAN.
So if you still fancy taking a dip with the largest (and most gentle) fish in the ocean, as well as visit the charming Ningaloo Reef, head over to our Western Australia page or call our Travel Designers for more information.  
Images: Ningaloo Reef, Western Australia