This is the first instalment of our four-part stopover series where we'll uncover all the must-visit sights of Singapore so you can make the most of your time in this sensational stopover state.
A stopover in Singapore on your way Down Under is a great way to help you adjust to the time difference, plus you get to experience a whole host of exciting attractions and activities.
Here are our favourite things to see and do in this fascinating Asian city-state.
Orchard Road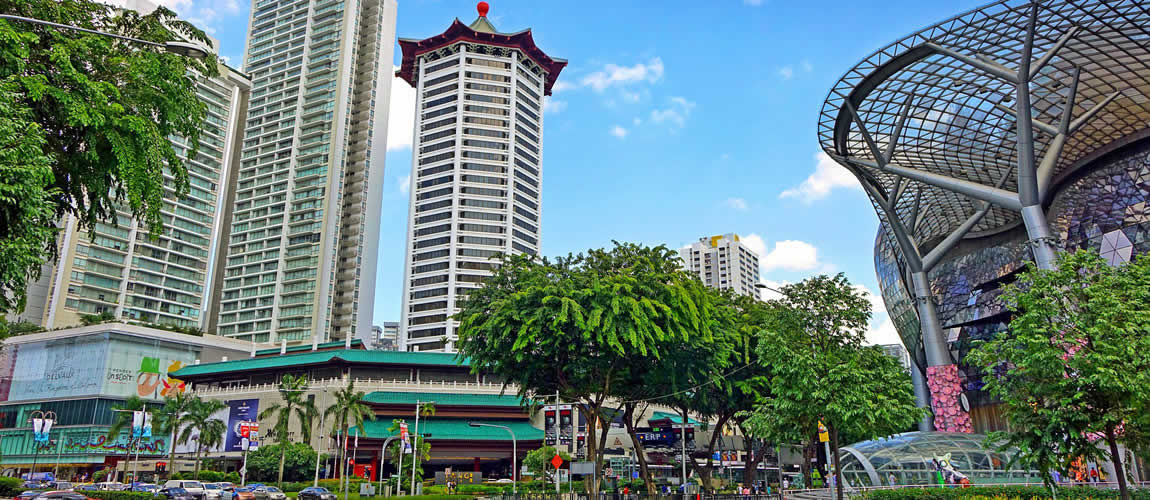 New York has Fifth Avenue, London has Bond Street, and Singapore has Orchard Road: three solid miles of retail therapy in the form of 22 deluxe malls and six department stores. From iconic designers to high street brands, Orchard Road suits every budget and offers a range of entertainment and dining options too. You'll also love admiring the immaculately landscaped gardens between malls.
Sentosa Island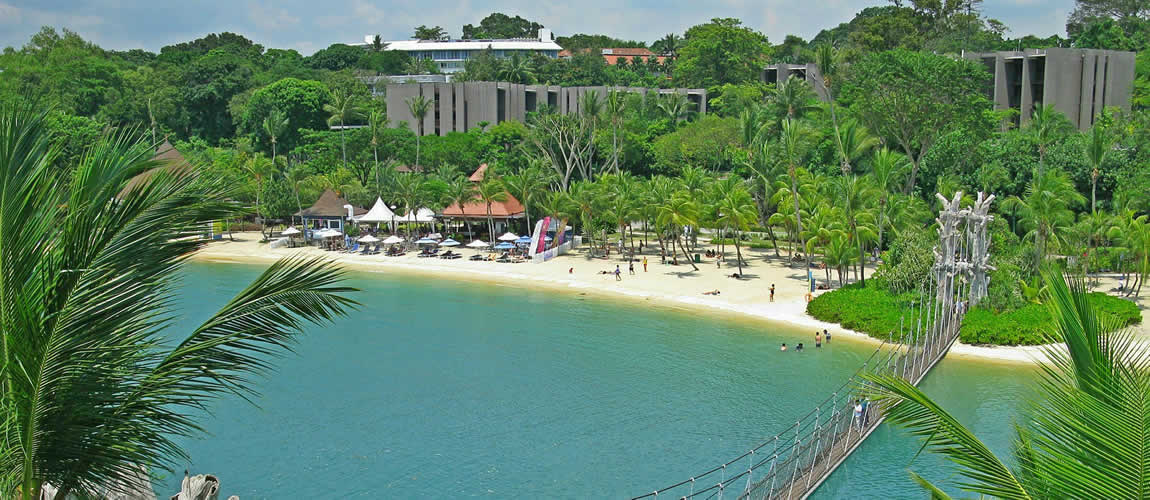 Jump on the Sentosa Express and leave boredom behind for a guaranteed fun-filled day for the whole family. Dubbed the 'State of Fun', Sentosa is home to an array of activities, including Universal Studios, Adventure Cove Water Park, Dolphin Island, zip-lining, nature treks, and a Madame Tussauds. The island also possesses 3.2 kilometres of beaches; Palawan Beach for families; Siloso Beach holds after-dark parties; and Tanjong is a tranquil beach perfect for relaxing in the sun.
Gardens by the Bay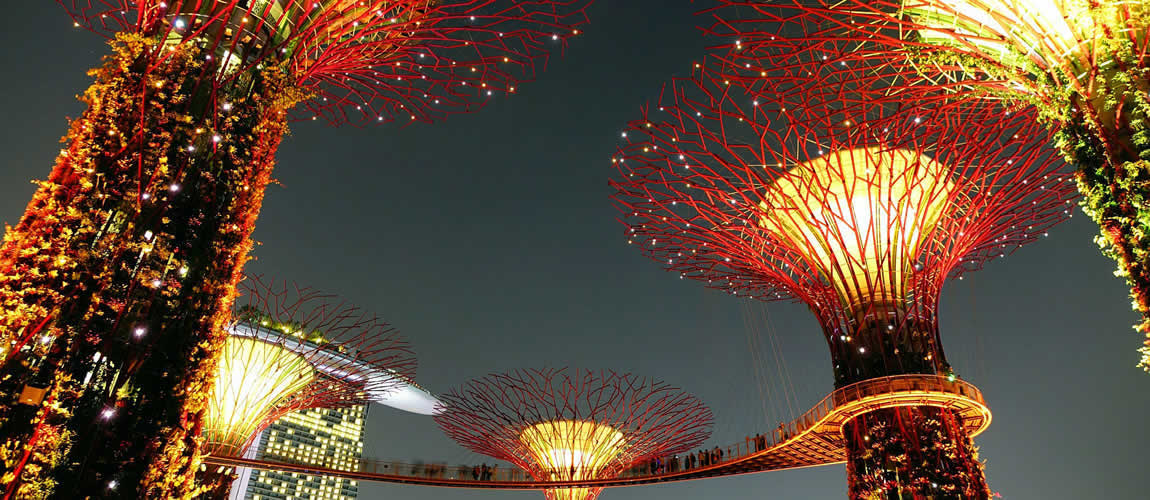 Boasting breathtaking waterfront views just south of Marina Bay Sands, Gardens by the Bay is a futuristic 101-hectare super garden with an exotic array of flora and fauna. You'll spot the 165-foot 'super trees' from a mile off – especially at night when they're lit up with pink and green lights. The S$1 billion nature park also features a Flower Dome hosting a huge collection of plants from around the world and the world's tallest indoor waterfall in the Cloud Forest. This is indeed as close as you'll come to a real Alice in Wonderland experience.
Marina Bay Sands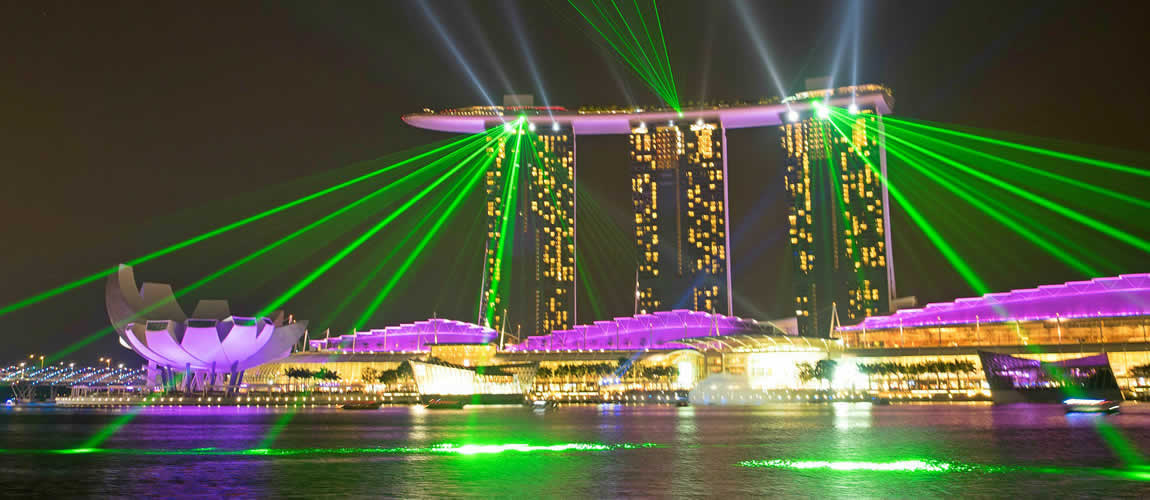 This soaring 57-storey luxury hotel and casino is now an icon of Singapore's skyline. Once the world's most expensive hotel build, this S$4 billion resort boasts over 2,500 rooms and a boat-shaped 'Skypark' perched on top of its three towers. Another impressive feature is its 150-metre infinity pool (that's three times the length of an Olympic swimming pool!) which, at 200 metres up, definitely gives the best views of the city. Or if you're admiring the resort from the marina itself, hang around till 8pm for 'Wonder Full' - South East Asia's largest light and water show. 
Little India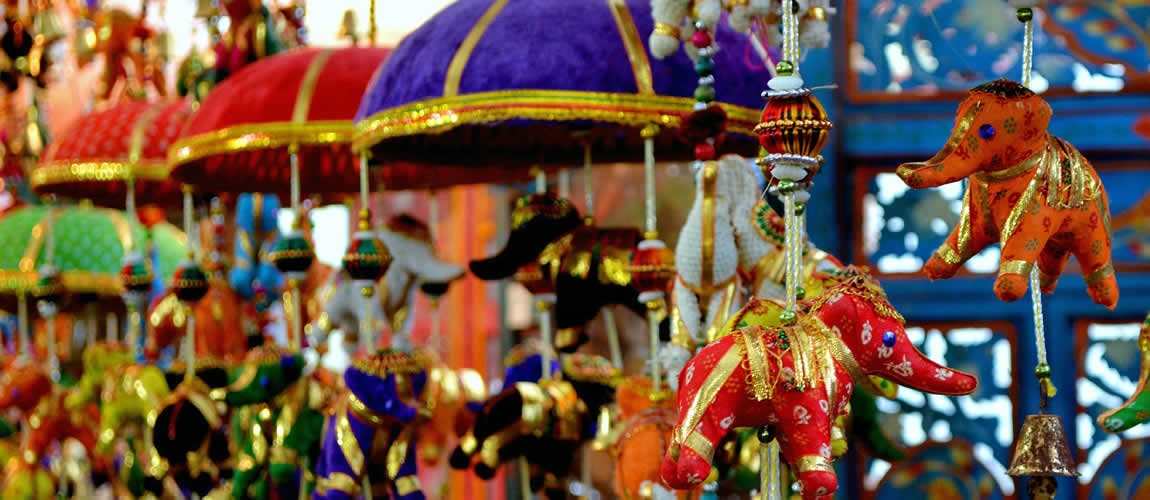 Singapore is home to several buzzing ethnic districts offering the smells, music, and flavours of different cultures. First up is Little India, or Tekka as the locals call it. Sitting just east of the Singapore River, it's a vibrant hub of Indian culture and food. From multi-coloured buildings to Indian floral displays and the bustling Tekka Centre where you can join the locals on a grocery shop, Little India certainly is a feast for the eyes. Sri Veeramakaliamman – the oldest and busiest Hindu temple in Little India – and Mustafa – the 24-hour department store – are also worth a visit.
Chinatown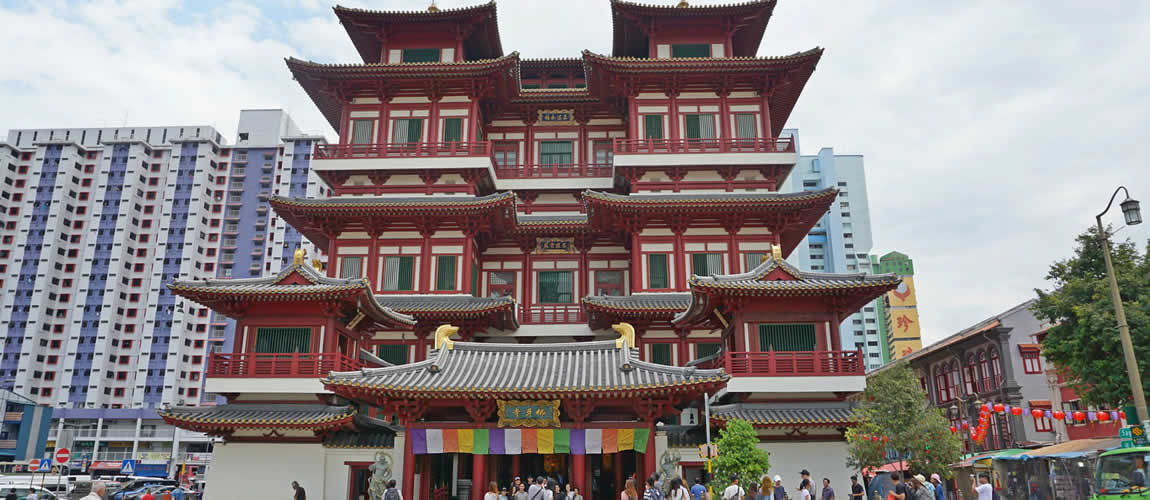 Next, make your way over to Chinatown for lunch or dinner as this area is definitely best explored through taste. Start with a stroll along New Bridge Road to browse the local street-side stalls offering barbecued meats, traditional Chinese sausages, and chili-infused seafood. The area is a vibrant combination of old and new, and a visit to the Chinatown Heritage Centre to learn of Singapore's early Chinese migrants and their struggles is an absolute must.
Raffles Hotel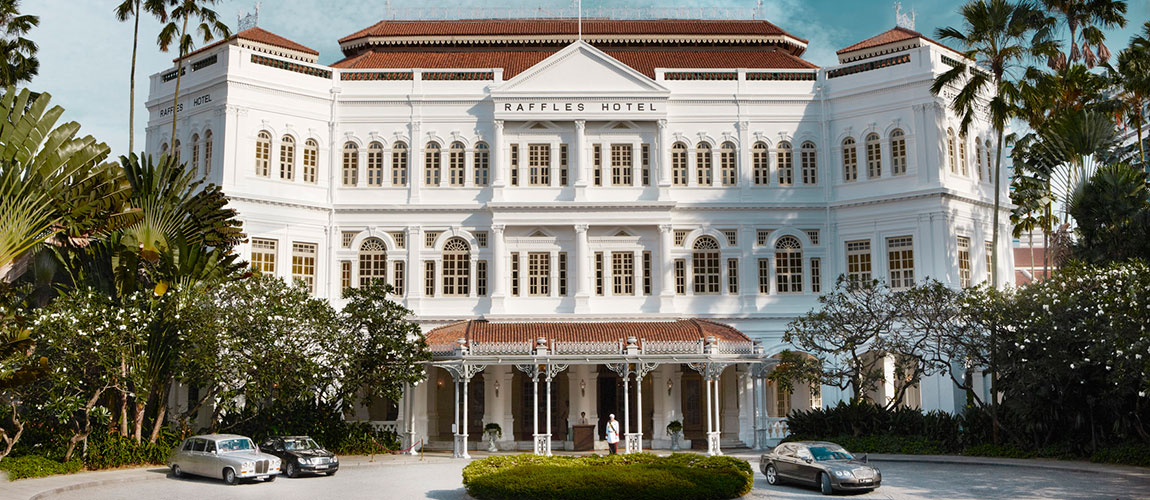 Or more specifically, an evening at the Long Bar in Raffles Hotel. A stay in Singapore isn't complete until you've had the country's national drink - the famous Singapore Sling. This pink-coloured, gin-based cocktail was first created in 1915 at the Raffles Hotel Singapore by bartender Ngiam Tong Boon. Since then it's become an international hit and a rite of passage for travellers to the city.
Singapore Botanic Gardens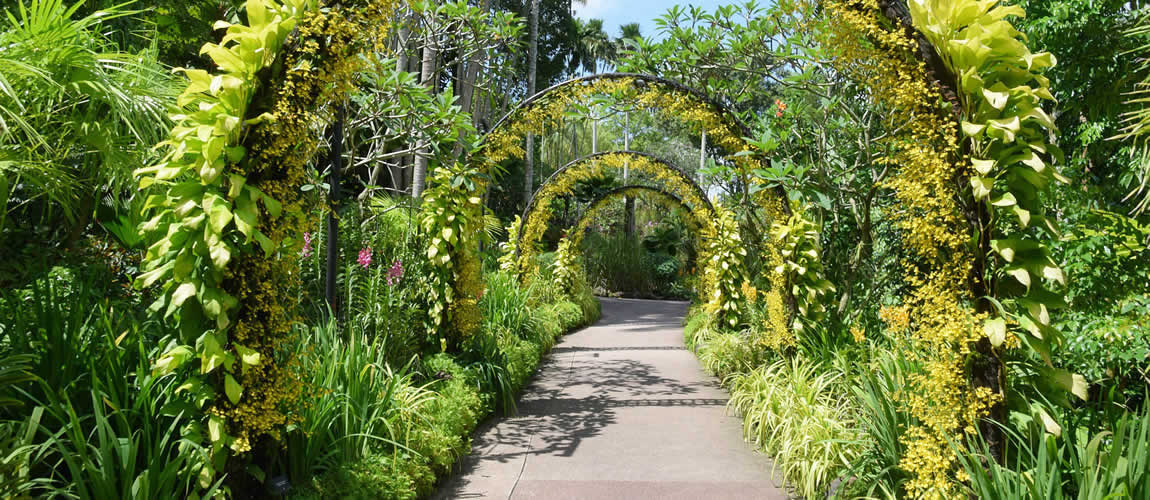 Escape the hectic urban sprawl and explore the fragrant delights of Singapore's impressive Botanic Gardens. Located on Bukit Timah Road, the gardens are home to the world's largest display of orchids – Singapore's national flower – with over 1000 species and 2000 hybrids to see. The relaxing oasis is ideal for an afternoon spent aimlessly wandering the walkways, or you can join one of the complimentary exercise classes, such as Tai Chi.
Singapore Zoo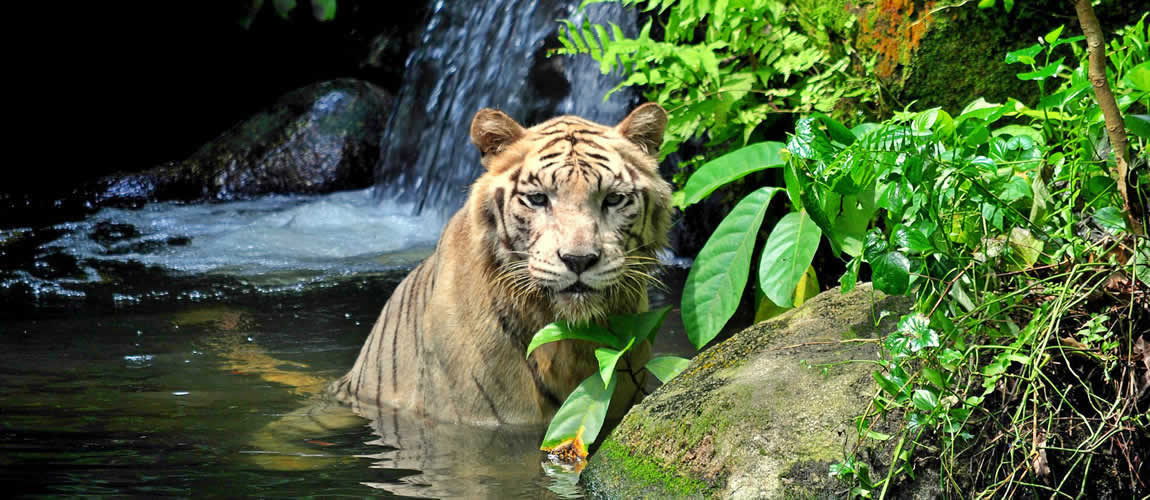 With its famous giant pandas, Kai Kai and Jia Jia, a white tiger, orangutans and much more, Singapore Zoo is rated one of the world's finest. Elevated platforms, spacious enclosures, underwater galleries, and walk-through experiences give guests the most intimate, up-close experience with the animals. And if one afternoon isn't enough, come back after dark for the night safari with its guided tram ride across seven of the world's geographical zones, then explore further by foot along the many walking trails in search of the zoo's nocturnal residents.
Singapore is an exciting city with a wealth of cultural attractions to transform any stopover into a twin centre holiday.
Find out more about what other stopover cities you can visit over on our stopovers page or read more articles from our stopover series:
What to do on a 2-day stopover in Dubai
What to do on a 2-day stopover in Bangkok