Mmm, pancakes. Those golden stacks that we sadly seem to only indulge in once a year on Shrove Tuesday. The Aussies on the other hand, don't practice such strict self-control. And thank goodness!
A staple on any breakfast menu, the pancake is to Aussies as the full English brekky is to us Brits.
However, unlike the grease-laden sausages and bacon, Aussies take pride in their pancakes' appearance. In some cases, they are absolute works of art. Sprinkled with cinnamon sugar. Drizzled with sweet fruit coulis. They almost look too good to eat – almost.
Take a look for yourself. Here's a handful (and there's plenty more) of Australian cafés who certainly know how to serve up a flippin' delicious plate of pancakes.
The Kettle Black – Melbourne
50 Albert Road, South Melbourne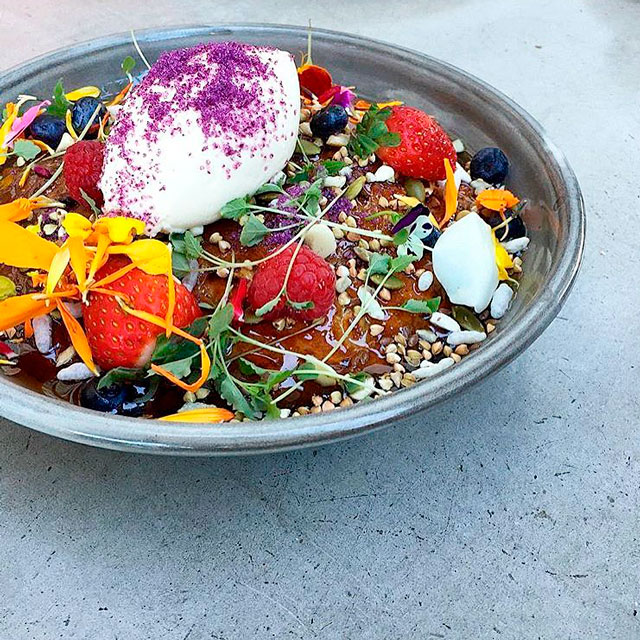 Top marks in presentation to The Kettle Black in Melbourne for such a stunning dish.
Listed as a 'hotcake' on their menu, this photogenic breakfast is technically just one big pancake. And what a pretty one it is. The hot cake is topped with berries, a splash of maple syrup, a dollop of double cream, nuts, seeds and a colourful layer of edible petals.
Too beautiful to eat? Noooo. Take a photo, then dig in.
Kansas City Shuffle – Sydney
195 Gloucester Street, The Rocks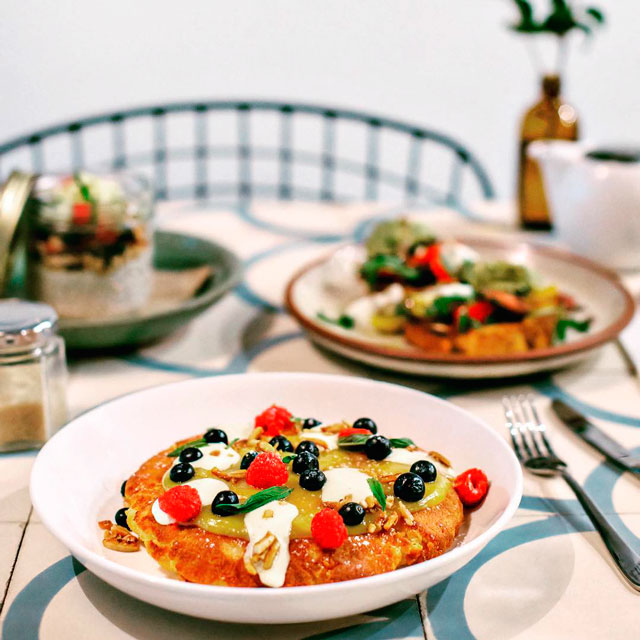 Tucked down a quiet, leafy street in The Rocks, you'll find Kansas City Shuffle where they take the idea of a pan'cake' quite literally.
At one inch thick, this giant pancake is fluffy, light and moist, almost like a sponge cake. It's served drenched in tangy lemon curd, topped with slivers of toasted almonds and fresh blueberries with generous helpings of cream cheese parfait.
If you like the idea of cake for breakfast, then this mountain of sweetness is for you. You're on holiday after all.
Rogue Bar & Bistro – Brisbane
14 Austin Street, Newstead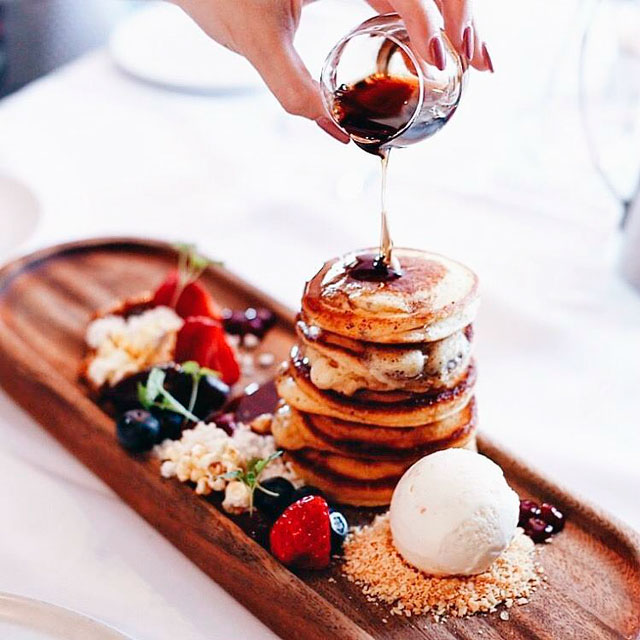 These days Brisbane's café scene definitely rivals that of its southern sisters – Melbourne and Sydney. And that's clearly apparent at Rogue Bar & Bistro. As you can see, their pancakes – or pikelets (that's mini pancakes) – are an extremely sophisticated affair.
Served on a plank with dainty sprinklings of micro herbs, nuts, popcorn and blueberries, this elegant tower comes decorated with chocolate ganache, a smear of salted caramel and a scoop of vanilla ice cream.
Oh, and did we mention the side of smooth maple syrup? Pour on as much as you like, or all of it. We won't judge.
Pickle in the Middle – Adelaide
134 Unley Road, Unley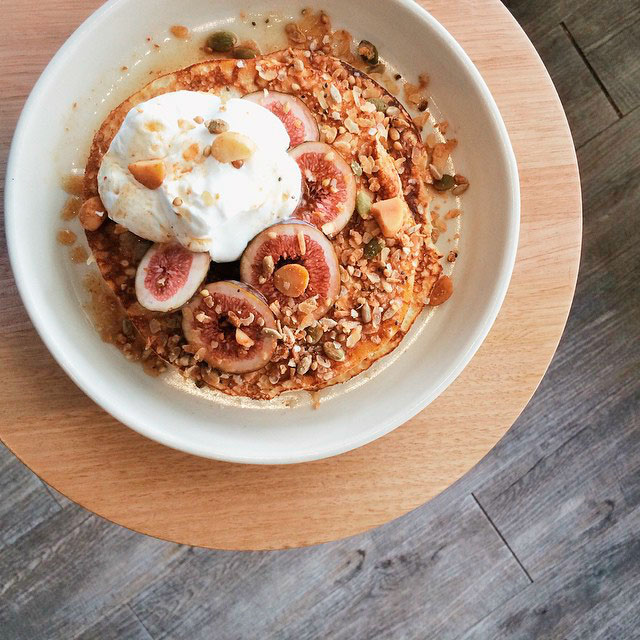 Located on Adelaide's city fringe, Pickle in the Middle brings us these buckwheat beauties.
By their own admission, the café's menu is 'a little bit improvised' but all the better we say. You can expect creations like these pancakes topped with fresh figs, a mixed nut crumb, cardamom-spiced whipped yoghurt and agave date syrup – yum!
Other concoctions we've seen include mango and coconut or rhubarb and honeycomb. Needless to say you'll be pleasantly surprised with whatever pancake of the day they're whipping up.
Little Bird Café – Perth
100 Lake Street, Northbridge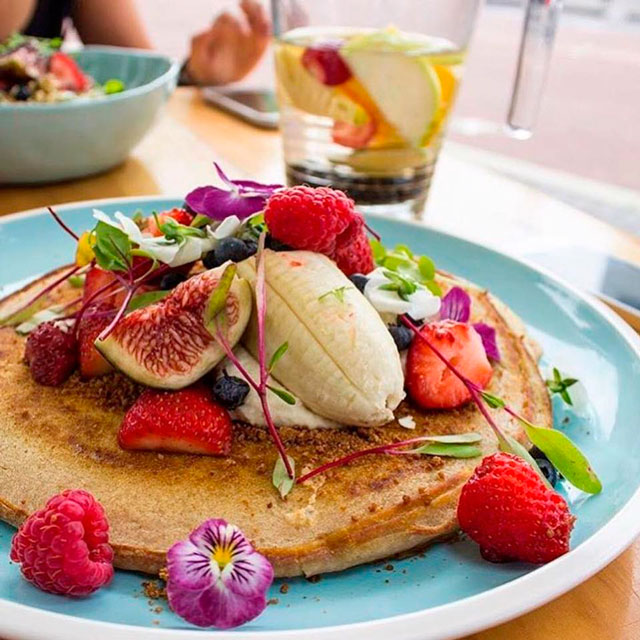 Gluten free vegan pancakes that taste amazing, who'd have thought. But Little Bird's healthy buckwheat pancakes are sensational!
Served as a large single pancake this spongey delight has slices of banana baked in with the batter, along with a hefty portion of banana and a selection of other fresh fruits on top. For the moisture, the cashew cream with its hint of sweetness and nutty flavour is a perfect marriage to the fruit. You even get your own bottle of maple syrup!
One thing's for sure, you'll certainly be getting your five a day when you plough down on this guilt-free brekky.
So, in Australia, eating pancakes doesn't have to be a special occasion. Whether you like yours thick and fluffy, or in simple crepe form, pancakes are a year-round Aussie breakfast favourite.
Stop by one of these breakfast hotspots or explore the wonderful array of cafés these cities have to offer. Then sit back and enjoy your beautiful pancake(s) because, let's face it, that's what you'll be ordering.