Overwater bungalows perched above glistening turquoise waters, untouched coral reefs and endless gleaming white sand beaches – the South Pacific is a quintessential paradise.
Join the locals as they teach you about their culture and legends, snorkel in pristine waters and sip cocktails as the sun sets over an endless horizon.
The South Pacific islands are popular with honeymooners, those getting married or just about anyone who wants to escape their day-to-day pressures and relax in paradise. From luxury island getaways to unique eco-resorts, there's something to suit every budget and every traveller.
Plus, these amazing destinations are easily accessed from Australia or New Zealand, Hong Kong or Los Angeles, so creating an itinerary with a stay on a South Pacific island will make a dream holiday, even more special. 
Fiji
With year-round sunshine and over 300 islands to discover, Fiji has something for everyone. From honeymooners seeking a secret island hideaway to watersports-mad families, they all head to Fiji for clear waters and swaying palm trees.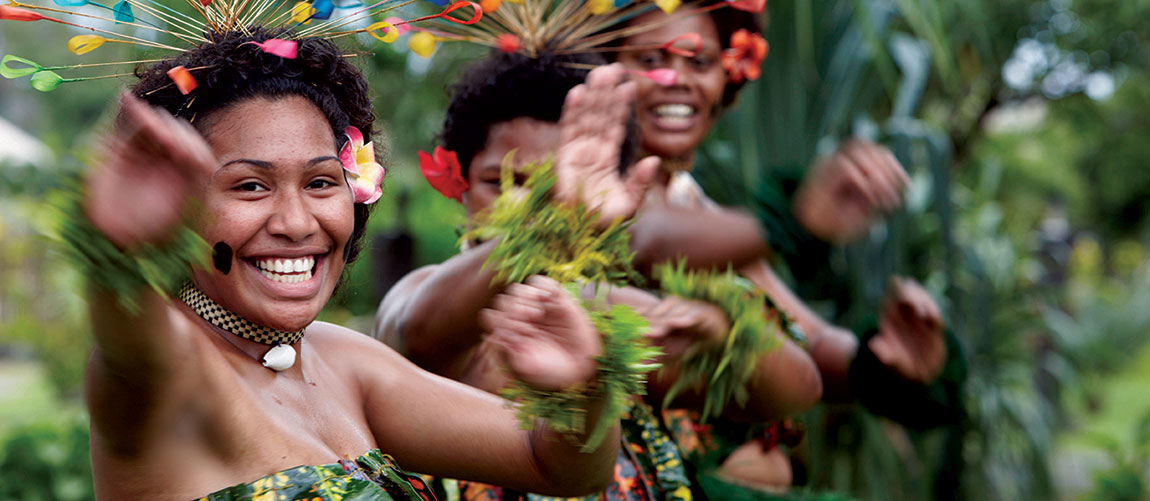 Things to do and see: The locals are, by many, considered the friendliest people on the planet - within minutes of landing you'll hear shouts of 'Bula', which translates to 'life'. Fijians use this as a greeting, a thank you, or just to express warm hospitality.
The main island of Viti Levu contains luxury beach resorts surrounded by stunning mountain scenery; perfect to take in sun, sea and sand. And at just a three and a half hour flight from Brisbane, adding Fiji to your holiday Down Under is a no-brainer.
For a true Fijian experience head to the outer islands such as the Mamanucas and Yasawas. You'll have some of the best snorkelling, diving and watersports at your fingertips.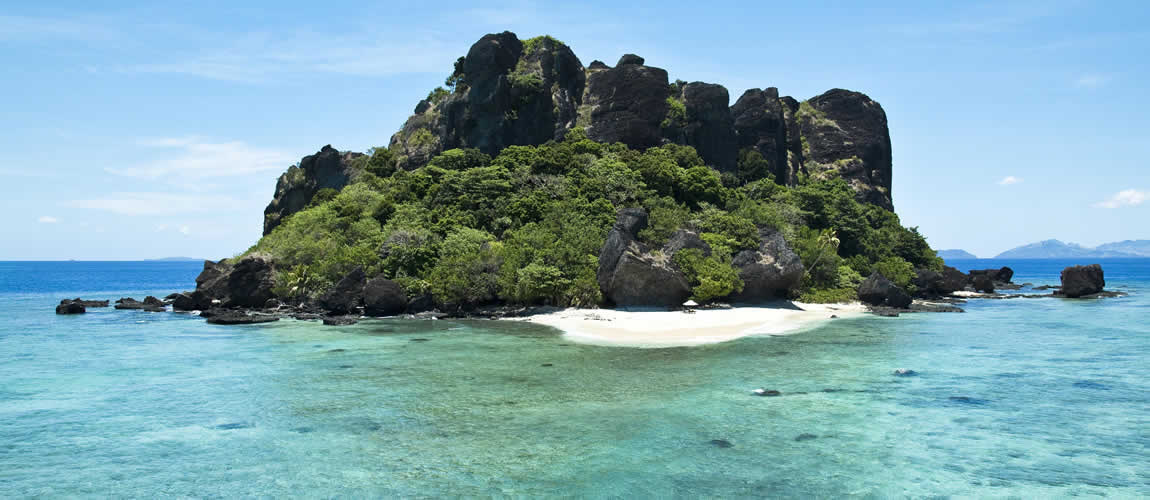 Tip: At Vomo Island Resort they have a smaller private island called Vomo Lailai (pictured), where you can request a private picnic for the day. Also take part in your hotel's 'island nights', such as Kava Ceremonies, to soak up the culture and chat with the friendly locals.
Samoa
The Samoan islands of Upolu and Savaii offer stunning cultural, castaway experiences. Create the perfect holiday experience when you combine your South Pacific adventure with a stopover in Sydney to enjoy one of the finest beach-city breaks in the world.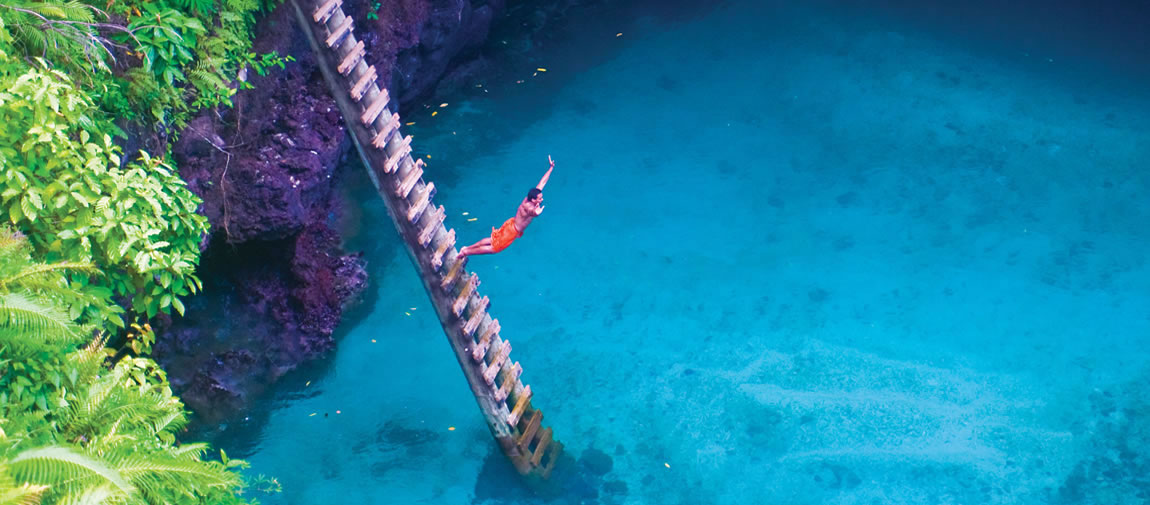 Things to do and see: Upolu, one of Samoa's largest islands, will provide plenty of opportunities to relax and acclimatise to life in the South Pacific. Shop for local handicrafts at markets and explore the home of author Robert Louis Stevenson. Dive into the spectacular To Sua Waterhole (pictured) and finish by watching the sunset at Lalomanu Beach.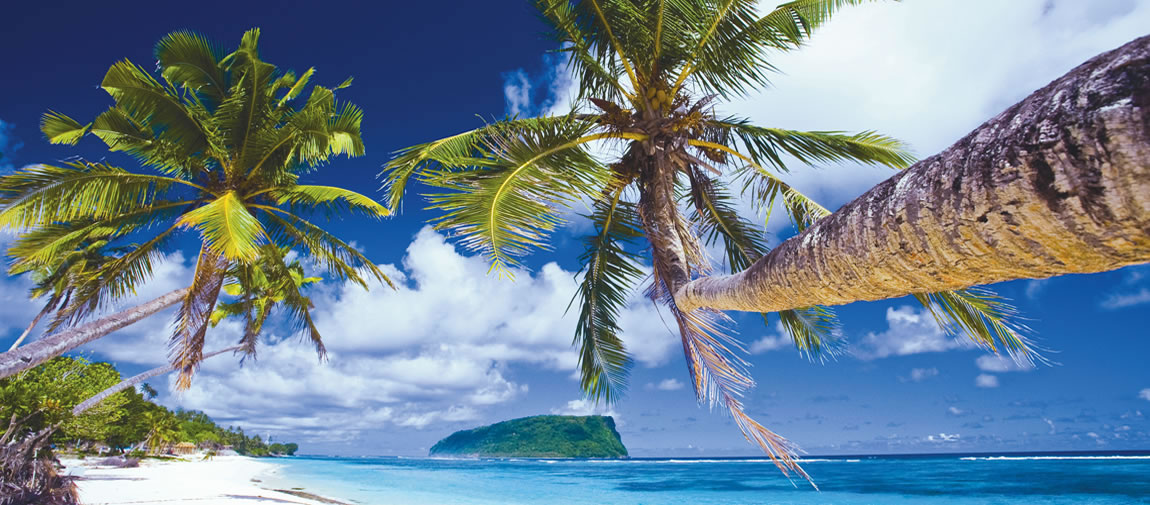 Tip: Ruggedly beautiful Savaii is home to the impressive Alofaaga blowholes. Trek up Mount Silisili and walk around the top of the volcanic crater. Savaii is one of the least populated Samoan islands, so you'll have waterfalls and lagoons almost to yourself – if it weren't for the presence of the sleepy villages dotted about the island. 
The Cook Islands
The Cook Islands is a fantasy destination where you can relax in beach-side luxury or become immersed in the culture and captivating tropical landscape. Fly via the US to add the glamour and movie magic of Hollywood and Los Angeles. 
Things to do and see: In Rarotonga you'll find high mountain peaks and rainforests cascading down to clear lagoon waters. Be entranced by the Te Vara Nui Cultural Village show and feast, and witness age-old traditions as skilled fire dancers illuminate the night sky. Relax beside the cool, clear shallows of the Muri Lagoon and explore the night markets, enjoying a barbecue of freshly caught mahi-mahi and steaming coconut curry. 
Fly to the island of Aitutaki for wow-factor views of powder white sands and palm-fringed turquoise waters. Snorkel or embark on a lagoon cruise and acquire one of the world's rarest passport stamps on One Foot Island. Then partake in an Umukai feast in what is arguably the most exquisite atoll in the world.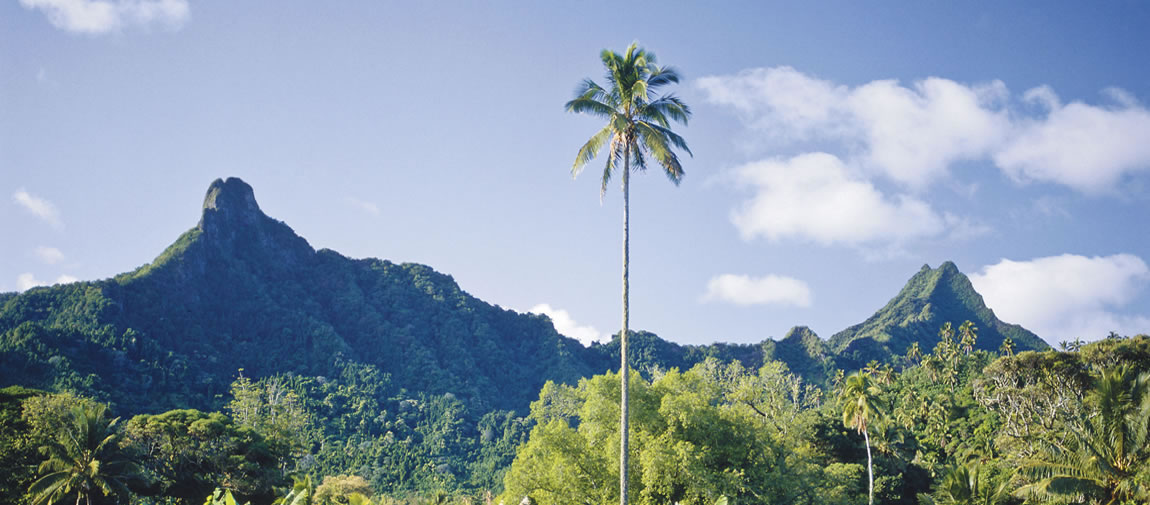 Tip: Rarotonga is really easy to get around; just take the clockwise or anti-clockwise bus around the island with the locals. Or hire a bike and discover pineapple plantations and deserted beaches.
The Islands of Tahiti
The ultimate in holiday bragging rights, the Islands of Tahiti are home to mountainous islands, crystal-clear streams, colourful corals and some of the most spectacular lagoon waters you'll ever dip your toes in.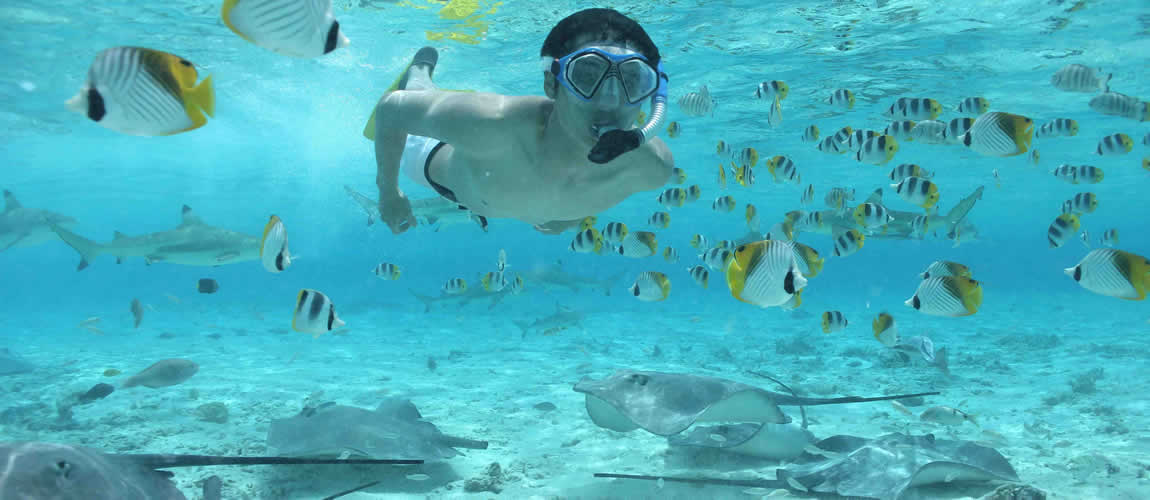 Things to do and see: Add to the stunning surroundings an ancient and vibrant Polynesian culture, and it becomes clear why this destination continues to attract modern day explorers.  
Tahiti is the largest of the Tahitian islands. Fringed by dramatic volcanic coastline and surrounded by the bluest of lagoon waters, it's set to the backdrop of majestic mountain peaks. It's also the gateway to Moorea and its sandy beaches, surrounded by coral reefs and translucent waters, where waterfalls tumble down fern-softened cliffs.
Bora Bora is an island that feels like paradise on Earth, especially from your overwater bungalow at Bora Bora Pearl Beach Resort & Spa (pictured). Iconic Mount Otemanu overlooks the turquoise waters that lap pristine sand beaches and host vibrant marine life.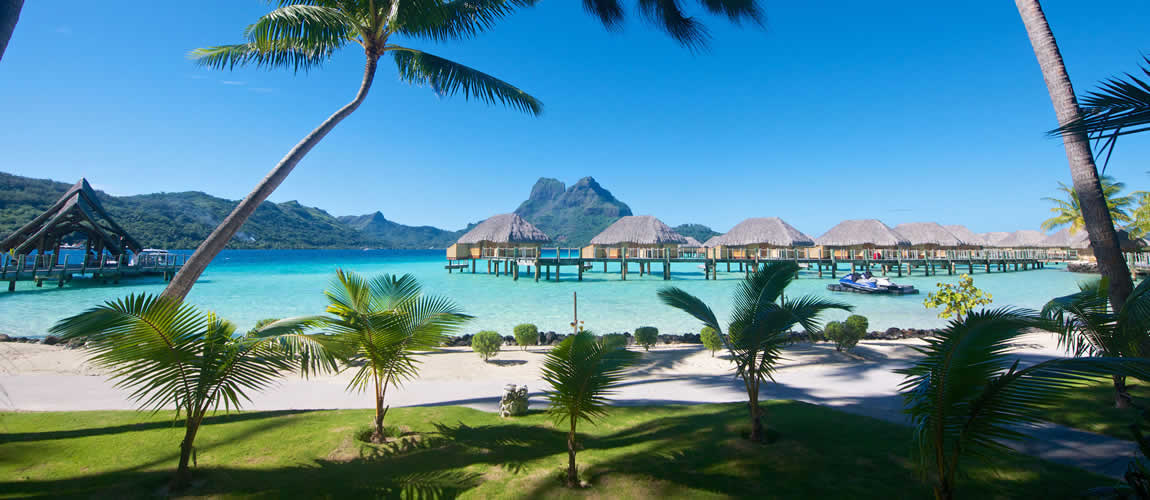 Tip: Just a five and a half hour flight from Auckland, the Islands of Tahiti are the perfect extension to a New Zealand holiday. And with over 100 islands and atolls, island hopping is a must. 
So have we managed to get you daydreaming about one or more of these paradise islands? Visit our South Pacific pages for more tropical island-hopping inspiration and get in touch with our Travel Designers to start planning your South Pacific escape today.