Take a deep breath and discover the enchanted ocean forests and its residents that thrive down under.
If you've watched BBC's Blue Planet series, then you have some idea of the stunning marine-life that call Australasia home. Let us give you just a bit more inspiration too.
From gentle-giant whale sharks to playful sea-lions, whether a novice or an experienced deep sea explorer, we give you the details on where to dive and snorkel with some of Australasia's sensational marine creatures.
Australasia is home to an abundance of diverse marine life. In fact, Australia's underwater environment alone supports 4,000 species of fish! What's more, it offers the chance to come face-to-face with turtles, dolphins and even whales in their natural habitat.
Read on to find out where and when to find some of the astounding ocean creatures that bless Australasia's waters. We don't mean to brag, but it's pretty impressive. So grab your flippers and goggles, and let's get going!
Whale sharks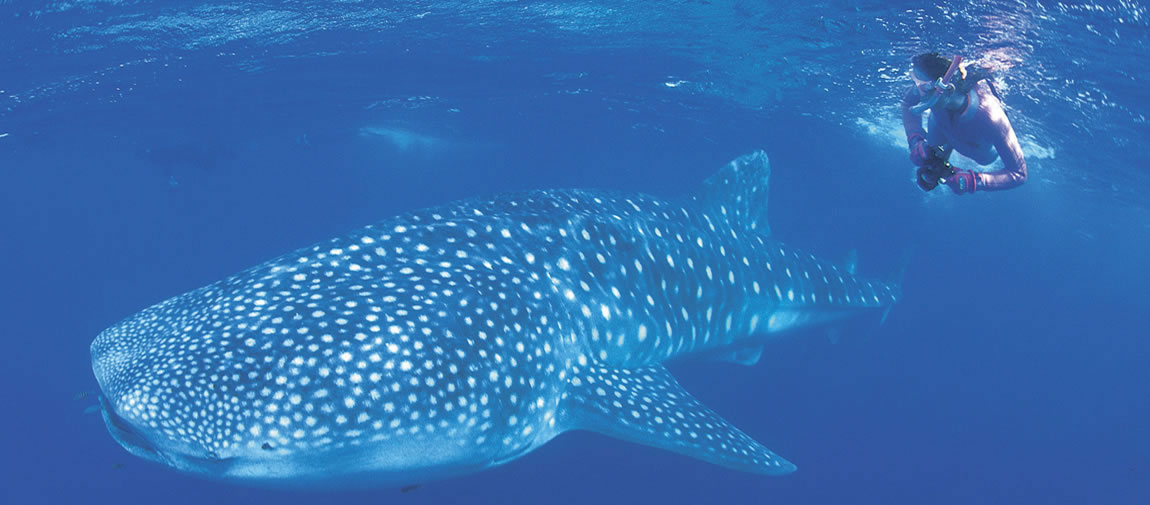 Whale sharks are found on the West Coast of Australia on the colourful Ningaloo Reef, along the Coral Coast and about an hour and a half from Exmouth. They migrate through these warm waters between March and September. 
Although an early wake up call, the experience is one you will remember for the rest of your life. An introductory snorkel on the beautiful reef gets you to grips with the equipment and therefore, as long as you're confident in water, no previous snorkelling or diving experience is required. From here, you head out to find the whale sharks on their morning commute to hunting down their favourite food, plankton.
Jumping in the deep blue with the world's biggest fish… Crazy? Maybe. Worth it? Absolutely. Although they have the terrifying word 'shark' in their name, these gentle giants have no teeth and are harmless to humans. Though their size is intimidating, once in the water with them you will realise how innocent they are!
Turtles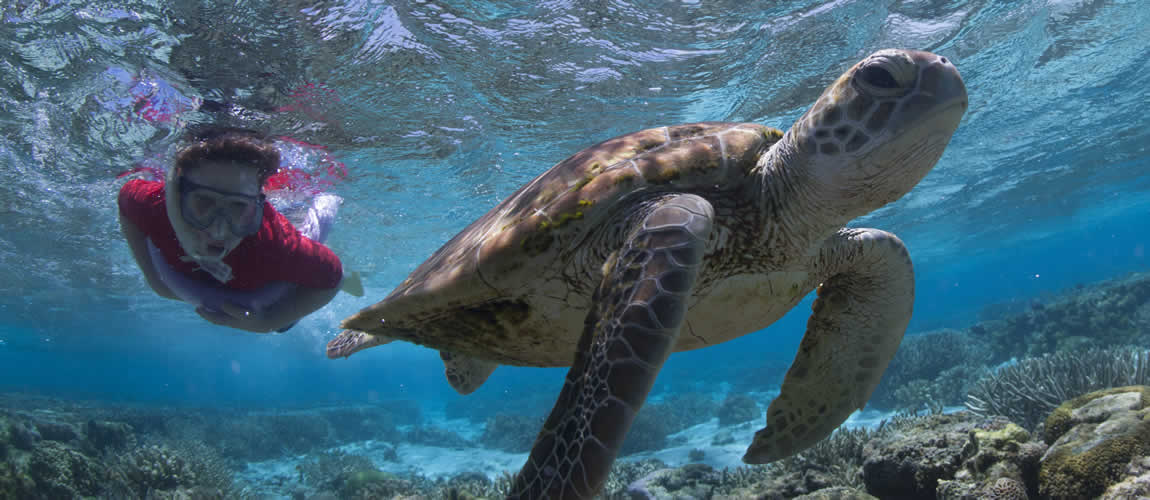 Of the seven species of turtle, six are commonly found throughout Australia and the South Pacific. Collectively swimming in the ocean year-round in the French Polynesia, Fiji, Queensland, Western Australia, the Northern Territory and New South Wales (pretty much everywhere with the exception of the colder waters of South Australia and Tasmania).
Turtles tend to feed in the shallower waters of the thriving reefs and come back to the exact beaches they hatched to lay their own eggs, which makes them much easier for us fellow humans to spot.
So, whether you're booking a trip to the Ningaloo Reef, Great Barrier Reef or Tahiti, we're sure you will be blown away by these striking reptiles. Again, no snorkelling experience is required, just your camera, your goggles and a curiosity for these fascinating creatures!
Dolphins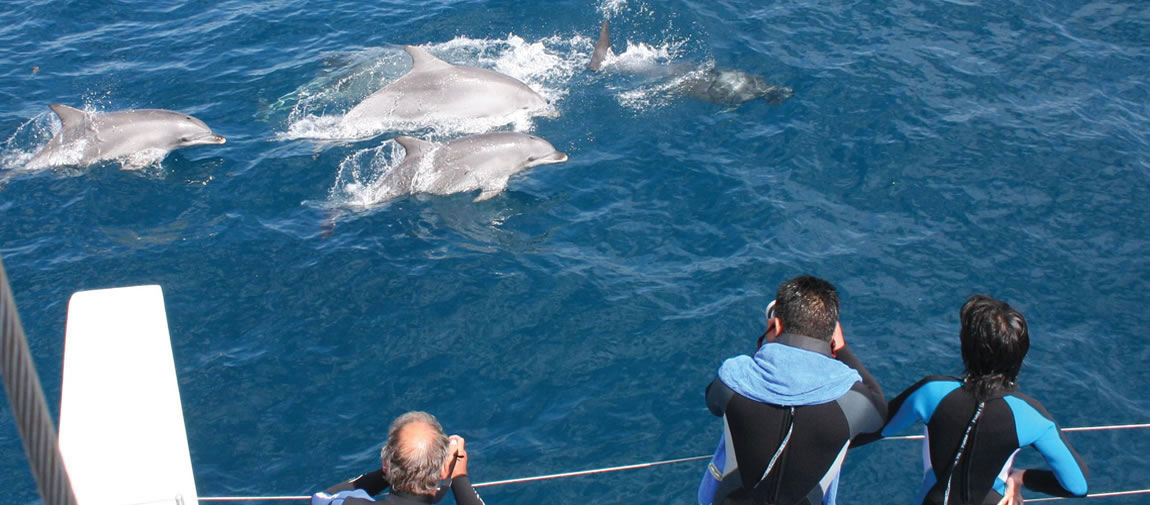 Known as some of Australasia's friendliest residents, bottlenose and spinner dolphins can be commonly found throughout Australia, New Zealand and South Pacific. Hector's, Maui's and Dusky dolphins can be specifically found only in New Zealand's waters. and You can kayak, swim, dive, feed or simply admire the sensational mammals from afar on one of the many boat tours.
If you'd prefer to go no further than knee-deep water, head to the Tangalooma Resort, just off the coast of Brisbane, or Monkey Mia Resort in Sharks Bay, Western Australia, where you'll get the chance to feed the wild dolphins that swim up to these beaches every evening.
For those who would rather admire these intelligent creatures whilst paddling in a kayak, then Byron Bay and Noosa in Australia, or Kaikoura and Akaroa in New Zealand, are the dolphin-packed places to highlight on your map. Or why not opt to view them in style on-board a catamaran from Adelaide's beach suburb of Glenelg or in the Bay of Islands, New Zealand, amoungst others.
Finally, perfect for curious individuals, Australasia offers many chances to swim alongside wild dolphin pods as they frolic in the ocean surrounding you. In Australia, you can enjoy this breath-taking experience in hotspots starting from Brisbane's coastline and following all the way to Sharks Bay, Western Australia! In New Zealand; Kaikoura, Akaroa, Marlborough Sounds and Bay of Plenty are the top dolphin spots, as well as Tahiti, Moorea and Fiji in the South Pacific.
Humpback whales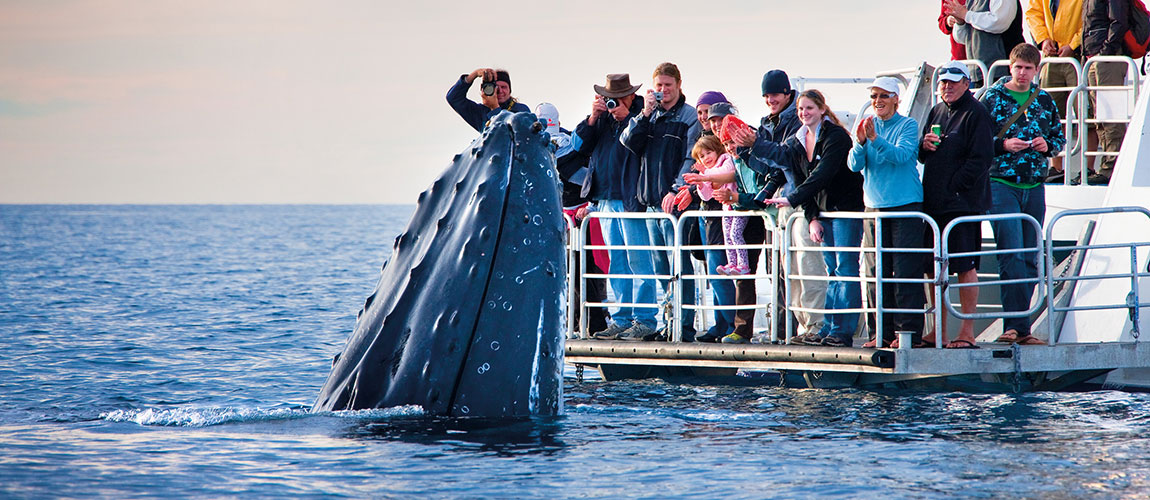 Humpback whales migrate in their masses through Australasia's waters from May to November. You can catch a glimpse of these majestic mammals breaching and playing with their calves pretty much anywhere from the East Coast to the West Coast.
You can spot an abundance of humpback whales as well as dolphins along the coast of Western Australia, all the way from Albany to Broome. If you'd prefer to go under the surface and admire these gentle giants in their natural habitat, head to the Ningaloo Reef between August and November where you can take a big, exhilarating breath and jump right in.
If you're planning on travelling to Queensland, you can enjoy an underwater or kayak experience with the whales from July to October at the Sunshine Coast and July to September at Hervey Bay. As long as you're a confident swimmer, you can enter the water with these entertaining creatures.
Finally, with the whale swims as an option, you can also relax on board a cruise and look out for the mammals whilst keeping dry. You can find many whale cruises throughout Australia, as well as Queensland and Western Australia, you can enjoy these majestic whales breaching from the ocean in Sydney, around the waters south of Adelaide, Freycinet, Maria Island and Warrnambool (along the Great Ocean Road).
Sea lions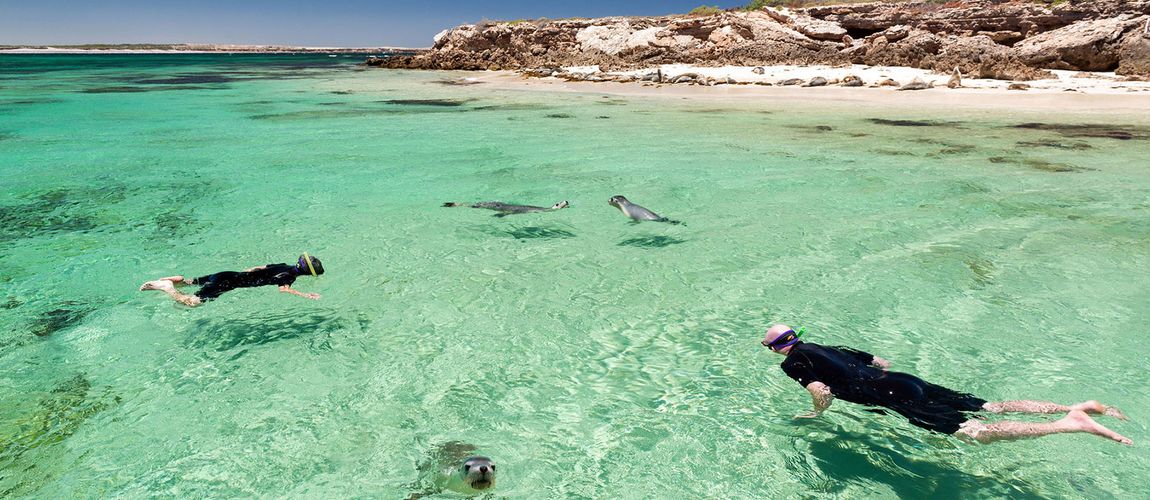 Sea-lions can be found in only a few hot-seal spots throughout South Australia and New Zealand.
For a unique walking experience, head to Kangaroo Island, home to an abundance of native wildlife as well as over 10,000 playful Australian sea-lions that live at the Seal Bay Conservation Park, on the islands south coast. Here, you can walk on the beach with a park ranger, and be surrounded by wild, playful pups and their parents sunning themselves on the white sands – an unforgettable sight.
There is a reason that sea-lions are nicknamed 'puppies of the sea', their playful and curious nature make them the perfect companion to swim in the ocean with. In the sheltered waters of Boston Bay in Port Lincoln, South Australia, as well as in the aquatic haven of Kaikoura, New Zealand, you can find wild, eager sea-lions waiting to entertain their next visitor. Dive right in and be surrounded by excited sea lions tumbling, rolling and racing and looking just as curious as you!
So, whether you want to watch some of the world's most amazing marine-life from afar, or join these impressive creatures in their natural habitat, you can do it all throughout Australasia. We hope the aquatic experiences you have now learnt about, prove only a small snippet of why you should visit the land down under!