Blue Mountains High Country Ecotour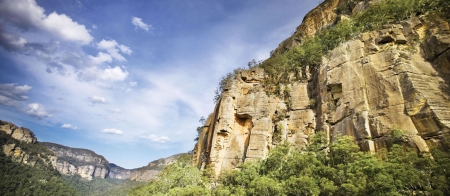 Great for
Adventure
Visiting friends & family
Wildlife & nature
This fantastic Eco tour begins at your hotel and the historical Rocks area of old Sydney. Heading westwards across the coastal plain we make our way to the Great Dividing Range of Australia, it is here we leave the average Blue Mountains tourist behind and enter the National Park and Euroka Clearing to unlock a piece of Australia you would never have known existed. Drop into a hidden valley where we roam the area, seeking out kangaroos that may graze in the wild.
Next visit some scenic lookouts to view the Blue Mountains including King's Tableland before visiting the quaint little village of Leura. Skirt around Cliff Drive to Katoomba where you will find yourself looking out over the magnificent Jamieson Valley and the world renowned Three Sisters from Eagle Hawk lookout. Enjoy a fine lunch of local cuisine and local wines in the heart of the Blue Mountains. Travel to the scenic Evan's Lookout for more gorgeous views of the Blue Mountains and finish the day with a short walk at the stunning Wentworth Falls.
From £156 per adult
From £86 per child
Please Note: From April '18 departs daily. Tour does not operate 25 Dec, 26 Dec and 1 Jan. Includes morning tea, lunch, selected Australian wines and refreshments.