Quicksilver Outer Barrier Reef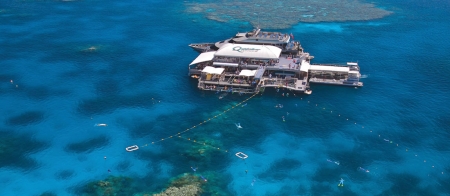 Great for
Adventure
Beaches & boats
Visiting friends & family
Wildlife & nature
Quicksilver's high-speed, air-conditioned luxury catamaran will whisk you to their floating activity platform on Agincourt Reef. With activities for swimmers and non-swimmers, dive and snorkel in a kaleidoscope of coral gardens and marine life, or stay dry and explore the Great Barrier Reef from a semi-submersible and underwater observatory. 
Tour from Cairns from £163 per adult
Tour from Port Douglas from £149 per adult
Please Note: Tour includes the only day cruise operator to visit an activity platform on the Agincourt ribbon reef, cruise by fast wavepiercing catamaran, informative presentation by Marine Biologist, semi-submersible coral viewing rides, snorkelling equipment, facilities for swimmers and non-swimmers, underwater Observatory coral viewing, transfers to/from Cairns accommodation. Also includes buffet lunch, morning and afternoon tea. Environmental Management Charge (EMC) of AUD 6.00 per person is not included in tour price and is payable locally.