What to do in Port Douglas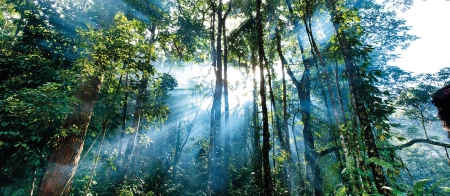 After arriving at Mossman Gorge, you will be treated to a guided rainforest walk, visiting special places and culturally significant sites, past traditional bark shelters and over cool rainforest streams. Your experienced Indigenous guide will demonstrate traditional plant use, identify bush tucker sources and share the history of the cave paintings within this unique tropical environment. After your 1.5hr walk, enjoy tea, damper and question time with your guide before enjoying a cruise on the Daintree River.
Includes Morning Tea, Lunch and Afternoon Tea. Tour departs at 7.00am and finishes at 5.30pm. Transfers are included from Cairns, Port Douglas or Northern Beaches accommodation. (DWA)
Coastal Kuku Yalanji Cultural Habitat Tour
Just 22 minutes from Port Douglas is beautiful Cooya Beach, a special and traditional place home to the fishing grounds of the Kuku Yalanji people. After being welcomed to the beach by a homeland cultural smoking ceremony, learn traditional fishing techniques including spear throwing and handling as it is practised today. With spear in hand, join your guide for an informative walk along the white sandy beach and pristine waters. You will wander through coastal mudflats and mangrove habitat teeming with aquatic life in search of mud crabs, mussels and small fish. Along the way your guide will highlight some of the coastal mangrove plants which have long been used by for medicinal purposes and food by the Kuku Yalanji.
Tour departs at 9.30am and 1.30pm from Cooya Beach Esplanade. Tour duration 2 hours.
Jungle Surfing Canopy Tours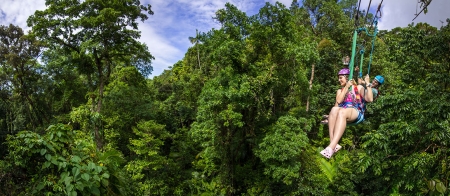 Great for
Adventure
Wildlife & nature
Travel north from Port Douglas into the heart of the Daintree rainforest, taking a cruise to spot wild saltwater crocs on the Daintree river. Arrive into Cape Tribulation and soar through the world's oldest rainforest on thrilling ziplines, as you travel high above the trees from platform to platform. This exhilarating tour includes morning tea and lunch, as well as the chance to see some of Queensland's most spectacular coastline.
From Port Douglas from £64 per adult
Also available is the option to add Jungle Surfing onto your self drive adventure - ask your expert Travel Designer for details.
Please note: Tour operates daily departing Port Douglas at 8.15am and is approx. 12 hours in duration. Includes transfers, Daintree river cruise, Jungle Surfing 2 hour zipline, morning tea and lunch.
Mossman Gorge Dreamtime Walk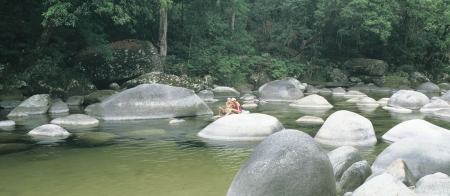 Meander through stunning rainforest as your experienced indigenous guide demonstrates traditional plant use, identifies bush food sources and provides an enchanting narrative of the rainforest and their special relationship with this unique tropical environment. Stop off for a resfreshing swim at the waterhole and experience the views of the picturesque Mossman Gorge. Finish with a traditional bush tea and damper. 
Please Note: - Tour departs daily at 10am, 11am, 12pm, 1pm and 3pm and is 1.5 hours in duration. Includes Bush tea and damper. Tour is subject to availability and weather conditions permitting. Please bring a comfortable pair of walking shoes.
Quicksilver Outer Barrier Reef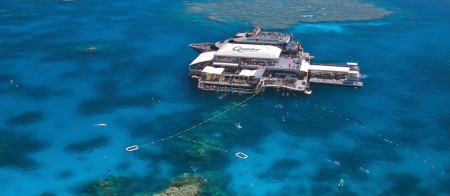 Great for
Adventure
Beaches & boats
Visiting friends & family
Wildlife & nature
Quicksilver's high-speed, air-conditioned luxury catamaran will whisk you to their floating activity platform on Agincourt Reef. With activities for swimmers and non-swimmers, dive and snorkel in a kaleidoscope of coral gardens and marine life, or stay dry and explore the Great Barrier Reef from a semi-submersible and underwater observatory. 
Tour from Cairns from £163 per adult
Tour from Port Douglas from £149 per adult
Please Note: Tour includes the only day cruise operator to visit an activity platform on the Agincourt ribbon reef, cruise by fast wavepiercing catamaran, informative presentation by Marine Biologist, semi-submersible coral viewing rides, snorkelling equipment, facilities for swimmers and non-swimmers, underwater Observatory coral viewing, transfers to/from Cairns accommodation. Also includes buffet lunch, morning and afternoon tea. Environmental Management Charge (EMC) of AUD 6.00 per person is not included in tour price and is payable locally.
Quicksilver Wavedancer Low Isles Cruise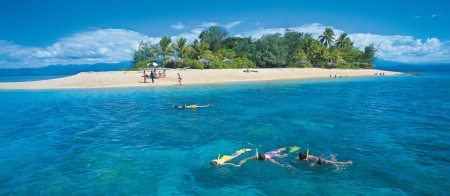 Great for
Adventure
Beaches & boats
Wildlife & nature
The Low Isles offers everything you can dream of in a tropical island paradise. Luxury sailing catamaran Wavedancer moors in the calm waters of the picturesque lagoon. Enjoy snorkelling, view the corals through a glass-bottom boat and join the marine biologist guided snorkel tour and island walk. Or if you prefer, just laze on the beach under a thatched umbrella. Visitors are limited to protect the reef's ecology.
Please Note: Tour includes day sail aboard 30 metre catamaran Wavedancer to Low Isles, all snorkelling equipment and guided snorkel tour, glass bottom boat tour, beach walk with a marine biologist, 4 hours to enjoy the coral cay, transfers to/from accommodation, plus buffet lunch, morning and afternoon tea. Environmental Management Charge (EMC) of AUD 6.00 per person is not included in tour price and is payable locally.
Thala Beach Nature Reserve
Why choose Austravel?
We've been creating tailor-made holidays to Australasia since 1977. Need help organising your dream holiday to Australia, New Zealand or the South Pacific (yes, we go there too)? With a well-travelled team of 20 plus Travel Designers, we're here to listen to your holiday plans, dig out the best deals and create a personalised itinerary to suit you.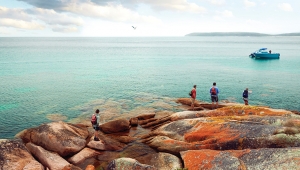 We don't just go there, we really know there. We've been creating award-winning holidays to Australasia for almost 40 years.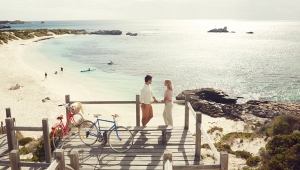 Expert destination advice
Whatever your preferences and budget, our Travel Designers can give you the best advice throughout the planning process.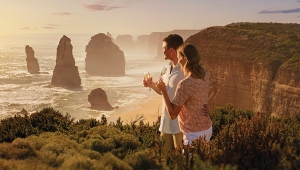 Your holiday's in safe hands
We're ABTA, ATOL and IATA protected and take care of everything, including your flights, hotels, visas and much more.