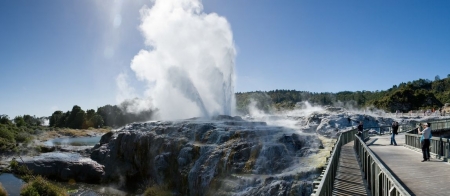 Te Puia is situated in Whakarewarewa Thermal Reserve just a 5 minutes drive from central Rotorua, watch the famous Pohutu Geyser as it bubbles and shoots water high into the sky, and view Native Kiwi in a nocturnal enclosure. Te Puia is also home to the New Zealand Maori Arts and Crafts Institute, where you can learn to weave flax leaves, and watch the students intricately carve traditional wood sculptures.
Admission and Steam Box Lunch from £63 per adult
Please Note: Tour departs daily at 11am and includes admission, a guided tour and a hands on weaving experience.