It's that time of year again in the UK when everything starts to look greener, temperatures begin to creep up and new life can be seen everywhere. It's spring!
Of course, in Australia, the spring season runs from September to November (something to do with being on the other side of the world), making this period one of the best times to visit if wildlife is on the agenda. Temperatures are pleasant, the country's unique flora is in bloom and baby animals are bouncing around - on and off shore.
While there's plenty you can do in this action-packed season from hiking in the outback to wandering Australia's vineyards, seeing the native animals (and their young) is one of the biggest draws.
But if you want to guarantee sightings of the furry and feathered natives, there's one place you've got to visit...  Kangaroo Island (the clue is in the name). A native wildlife haven, otherwise known as the 'zoo without fences'. Located off the coast of South Australia and only two and a half hours by land and ferry from Adelaide (or a quick 30 min flight), there's nowhere quite so special to see Aussie animals in their natural habitat.
Here's just some of the adorable wildlife you can see and where to find them around this small, unique island.
Koalas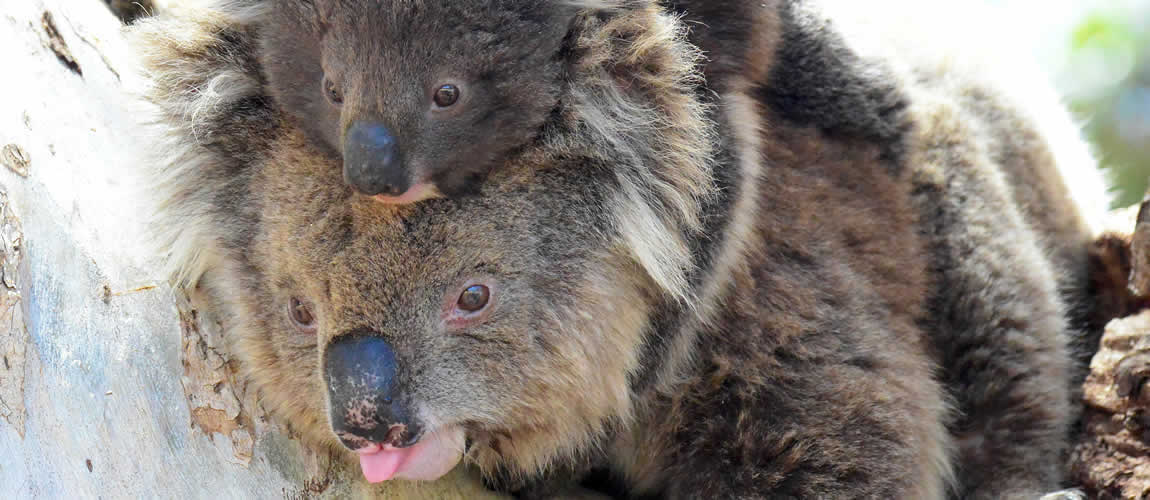 Of course, the cuddly koala is top of everyone's list to see when venturing Down Under. However, these slow-moving marsupials are extremely shy and notoriously hard to spot. As they're mainly nocturnal, they spend most the day sleeping in trees – specifically eucalyptus trees which are their main source of food.
Koalas were introduced to Kangaroo Island – or 'KI' as the locals call it – in the 1920's at a time when they were at threat of extinction. Since then, they've thrived due to lack of predators and plenty of grub, but to the point that they began to eat themselves to starvation. At one stage, there were said to be up to 27,000 koalas on the island! Too many koalas, too few eucalyptus trees. A management programme is now in place on the island to ensure a sustainable population of this iconic Aussie animal.

So while koalas may be quite hard to encounter on the mainland, KI is one of the country's best spots to see them in the wild. The best time to see a koala with her baby, known as a joey, is during the spring and summer months (September to February). Breeding season runs from September to March so keep an eye out for koala joeys piggy backing on mum. Hotspots for sightings include Hanson Bay Wildlife Sanctuary, where you're almost guaranteed to spot a koala on leisurely stroll along 'Koala Walk'.
Seals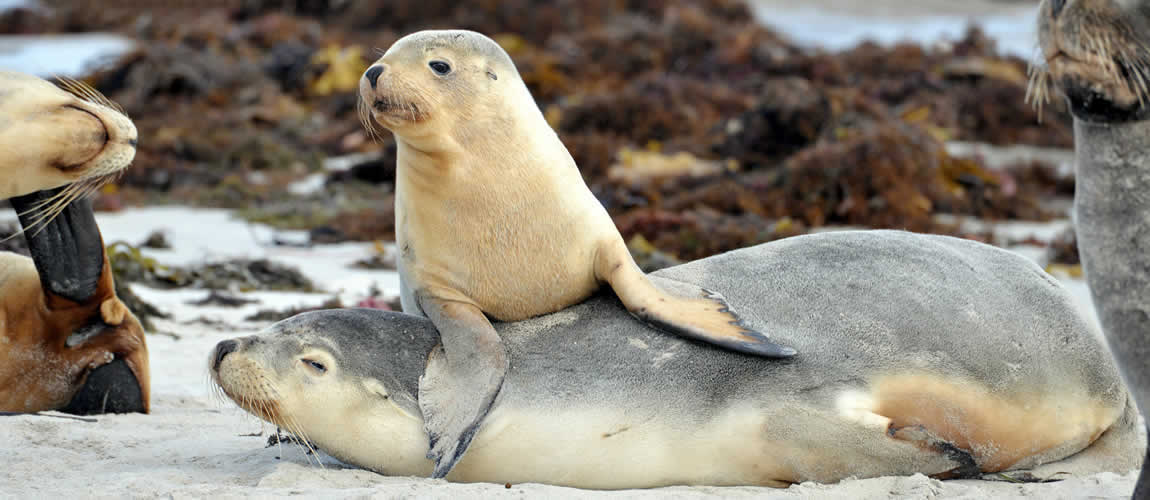 Found only in South Australia and Western Australia, the Australian sea lion is one of the most endangered seal species in the world with an estimated population of only 10,000-12,000, with approximately 1,000 of them living at Seal Bay. If there's one animal encounter you simply must have while on the Kangaroo Island, it's this.
You can see these magnificent creatures at the Seal Bay Conservation Park on the island's south coast. It's the only place in the world where you can walk among these rare sea lions as they sprawl out on the bay's sandy shores.
Walk along the 900-metre wooden boardwalk and see the animals surfing in the ocean or sunning themselves on the sand, or you can take a 45-minute guided tour onto the beach itself. You might see giant bulls fighting each other, or seal pups playing just metres away from you – it's a beautiful sight. Sea lions pups can been seen on Seal Bay for nine months of the year as Australian sea lions have a unique breeding period resulting in the females being pregnant for most of their lives!
Kangaroos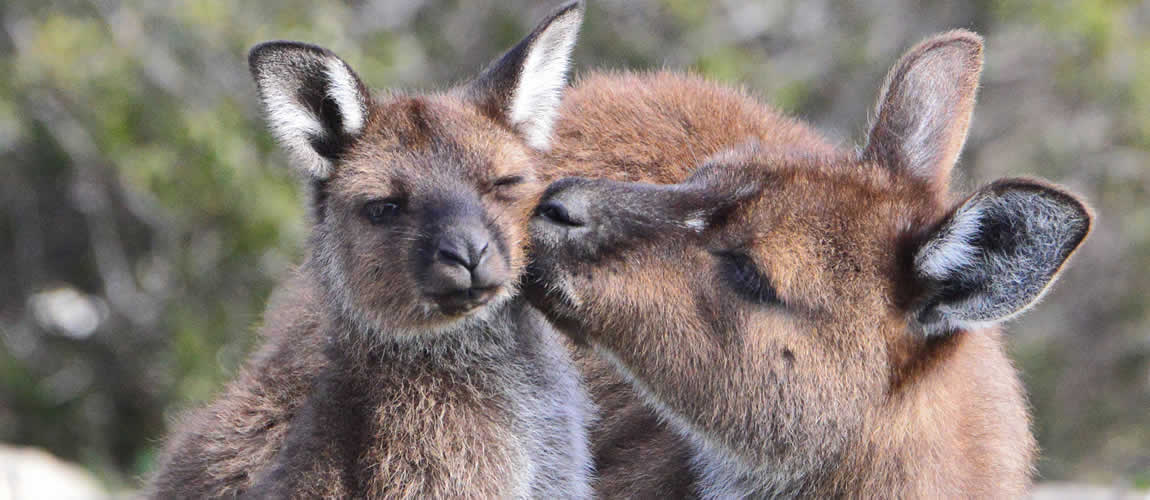 Well, Kangaroo Island isn't called that for nothing. There are countless kangaroos across the island.
KI even has its own sub-species of kangaroo, unsurprisingly named the Kangaroo Island (or sooty) kangaroo. These are shorter, stockier and have luxurious chocolate-brown fur compared to their lighter and larger mainland relative, the 'western grey'.
While kangaroos breed year-round, births are at their highest between September and March. Their gestation period is a mere 30 days, and then the young stay in the pouch for roughly 40 weeks until joey builds up the confidence to spend more time out than in.
One thing you're sure to notice when touring the island is that kangaroos are browsers and grazers.
KI kangaroos are most active late afternoon and early morning, with the middle of the day spent lazing in the shade. Sun and thick fur are not a comfortable combo. But when they are on the move, nothing beats watching a mob of kangaroos hopping across the island's green hilly pastures.
Dolphins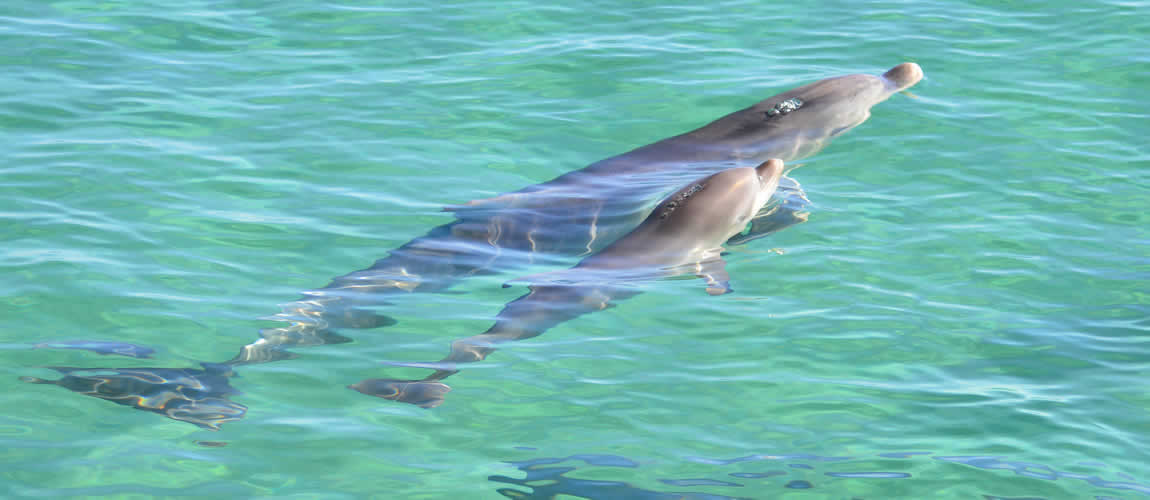 Bottle-nosed dolphins are also abundant in the waters around Kangaroo Island. Pods of dolphins can be seen out to sea from the beach or from one of the island's clifftop walking tracks like the Clifftop Hike in Flinders Chase National Park. These playful animals are a delight to watch, especially if you're lucky enough to spot a mother teaching her calf the acrobatic ropes.
Alternatively, if you do want to see them up close in their natural environment, we recommend booking a specialist tour such as Kangaroo Island Marine Adventures. These inquisitive creatures regularly come right up and swim alongside the tour boats, with numbers sometimes in the dozens.
Plus, as the only licenced marine tourism business with Eco Certification on the island, Kangaroo Island Marine Adventures also offer the chance to swim with wild dolphins. It's truly a once-in-a-lifetime experience.
Black swans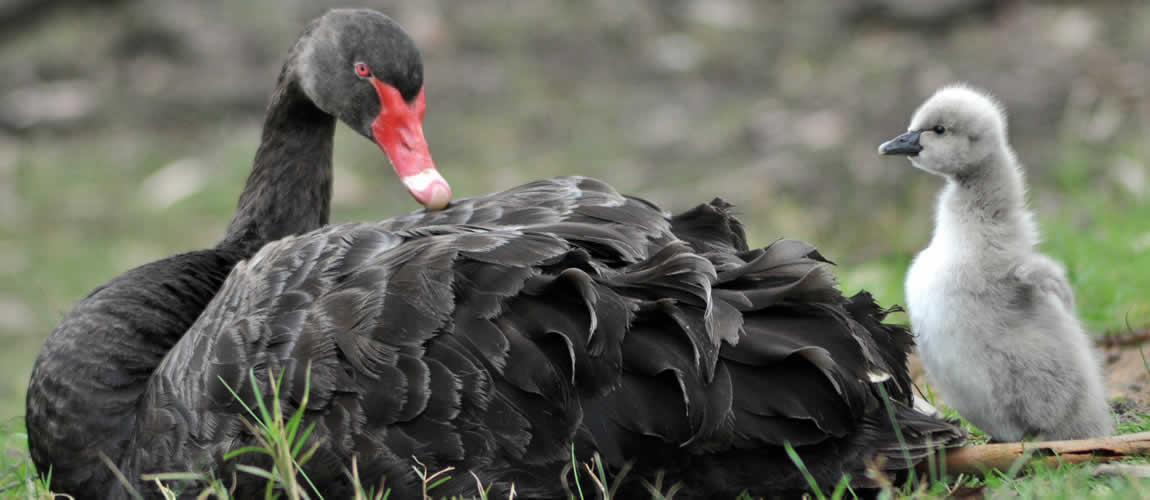 While a white swan may be quite a common sight in the UK, it's not every day you see a black swan.
Largely found in the south-west and south-east regions of Australia, the black swan has found a popular breeding ground in the sheltered waters around American River – a town on the east side of Kangaroo Island. Rare Cape Barren geese also frequent this area.
See these graceful water birds year-round but generally, black swans in the Southern hemisphere nest in the wetter winter months of February to September. So, the best time to spot them with their cute, fluffy cygnets is from October onwards.
Altogether, there are over 250 species of birds on Kangaroo Island, some of which are endemic to the island. From the rare resident black-glossy cockatoo to migratory shorebirds; KI is a wonderful place for birdwatching.
Wildlife galore
There's still a long long list of other animals and birds you can find on Kangaroo Island. From wallabies, goannas, echidnas to platypus and Ligurian bees which have flourished on the island and produce some of the purest honey in the world. It's a wildlife experience like no other.
If you want to add Kangaroo Island onto your next trip to Australia, get in touch with our Travel Designers and they'll be happy to organise your KI wildlife adventure.
All images are courtesy of Kangaroo Island Odysseys – a leading Australian tour operator who have been offering quality Kangaroo Island tours for over 25 years. Each tour offers personalised service in a small group setting, accompanied by knowledgeable, passionate guides.