Tongariro Alpine Crossing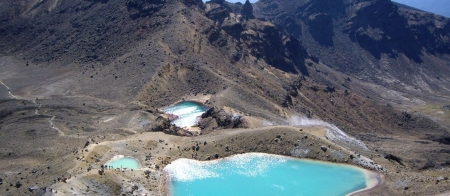 The Tongariro Alpine Crossing is renowned as one of the best day walks in the world and, although steep in places, it is well worth the effort. The trail leads you past volcanic craters, lava flows, thermal vents and emerald lakes, offering unparalleled views over central North Island. Your expert guide will ensure you are safe at all times and will provide detailed information on both the geology and the legends that surround Tongariro National Park.
From Tongariro from £142 per adult
With transfers from Taupo from £292 per adult
Please Note: Tour departs daily at 8am from the National Park Village, transfers from Taupo are available at an additional cost. Price includes lunch and guide. Duration of tour is nine hours. Walk is not suitable for children under 12 years.