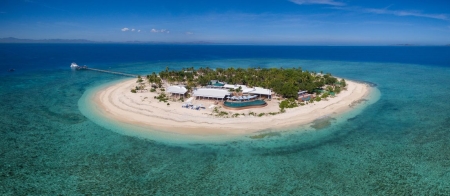 Located 30 minutes from Denarau Marina, Malamala Beach Club is the perfect Island Beach Club.
Enjoy the large infinity-edge pool looking out onto the crystal-clear waters and coral reefs. With exceptional snorkeling in the surrounding reef, plus complimentary non-motorised water sports there is plenty to do. Or choose to kick back and relax in one of the private cabanas, sharing something fresh and delicious from the selection of fine cuisine from the al-a-carte menus, and soak up the sun.
Please note: Food, drinks and cabanas are at an extra cost. Vessel transfers depart from Port Denerau at 10:00am arriving at Malamala Beach club at 10:30am. Departures from Malamala Beach Club are at 4:15pm arriving 5:15pm or 4:45 arriving at 5:45pm.